Your Workplace Mental Health: It's Time to Talk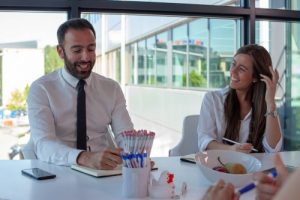 Did you know that one in four people in the UK are affected by mental health problems? Today is Time to Talk Day and we're encouraging everyone to be more open and supportive when it comes to mental health, especially in the world of work.
Here are some tips for encouraging an open approach to mental health, and nurture healthy minds in your organisation.
Talk about it
Talking about our mental health is scientifically proven to reduce stress for those suffering.  Encouraging openness across the workforce and taking the time to talk should not just be limited to this one day of raising awareness. Workplaces across the world need to keep the dialogue going every day of the year.
There are so many ways you can start a conversation about mental health with the people around you. Time to Change, a social movement to change the way we approach mental health issues, has some great tips to get you talking.
Make wellness a priority
Every business and organisation has its own big goals to make more profit or improve their services. For many, this means that promoting wellbeing often comes pretty low on the list of priorities. But the truth is, you can't grow a great business unless you're looking after the people within it.
Mental health charity Mind have plenty of tips for promoting wellbeing in the workplace. This includes the importance of getting senior leaders on board, embedding mental health awareness in your induction process and promoting a healthy work-life balance. So, if you're stuck with where to start when it comes to making wellness a priority, check out their tips.
Abolish the stigma
Mental health at work is still stigmatised as being a huge burden to employers. People who face these challenges are often discriminated against because of their situation. This can often promote feelings of worthlessness and make things worse.
Encouraging people to talk and promoting wellbeing are only part of the vital support network for people struggling in your organisation. To completely harness a healthy minds culture, we must abolish the stigmas that still surround people working with mental health issues.
Research shows that the value added to the UK economy by people who have or have had a mental health issue is more than £200 bn per year. That's around 12% of the UK's total GDP. A colleague with a mental health issue is still a crucial cog in your organisation.
So today, let's join together to make our workplaces better environments for those struggling with mental health. Let's scrap the stigma, support those who need it and encourage everyone to take the time to talk.
Check out how we made our very own UKFast Wellness week to promote wellbeing in the workplace.