How to Get Your Goals for 2019 Back on Track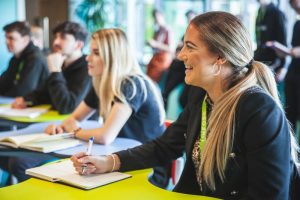 How have your new goals for 2019 panned out this January?
Well, if you've already abandoned some and are barely clinging to others, do not worry. We've got just what you need to get you back on track.
Here are the UKFast tips for smashing your goals for 2019 – even after the 90-day January we've just endured.
1.       Starting is always the hardest part
Okay, so this one isn't exactly a tip. It's more of a mini pep talk to assure you that all is not lost if a few of your resolutions fell by the wayside this past month.
January is a crazy long month, filled with the Christmas comedown and empty bank balances. From this angle, it's a wonder why the idea of New Year's resolutions started in the first place. But to everyone who set their goals for 2019 and saw the New Year as a chance to start afresh and get excited about the year ahead, we salute you!
The first step to sticking to your new goals is starting on a positive note and giving yourself some credit. You actually did the hardest part already; you thought about what you wanted to achieve and started your journey.
2.       Break it down
Whether you've got one goal or ten for this year, this step is absolutely crucial.
It's scientifically proven that our brains are happier and more motivated when we feel like we're achieving something. So, the key to keeping motivation high for your yearly goals is to break them down into achievable tasks. Each time you hit one of these mini goals, you'll feel great and be ready to hit the next one until the overall goal is reached. It also makes you think about the key steps that are needed to achieve each goal, increasing your chances of success.
3.       Treat yo'self
One great advantage of breaking down your goals is that it gives you more opportunities to celebrate reaching them! It's not all about the hard slog to the finish line.
For each small task within your goals, and for each full goal achieved, give yourself a reward. This could be getting a coffee from your favourite café, new stationary for your desk – anything that makes you feel like you've treated yourself a little. Keeping yourself in high spirits is key for keeping your momentum throughout 2019.
4.       Make yourself accountable
Studies show that when we think someone is watching, when we're being held accountable for what we're doing, we behave differently. We're much more likely to reach a goal when we've told others about it and people are supporting us.
At UKFast, we love sharing our goals with each other. We find the act of discussing goals and how we're going to reach them helps each team to get to know each other better and start the year on the same page. We also help each other to reach our goals, which makes the whole process more enjoyable and successful. So, go and tell your friends, family and work colleagues what you wish to achieve this year!
We hope to have brought you the February motivation you needed this snowy Friday. So go, reset, push yourself and smash your goals for 2019. We know you can do it!
If one of your 2019 goals is to find a job you love, why not check out our careers page and vacancies? Your dream role could be waiting for you.