New Year, New Tech Trends: AI Predictions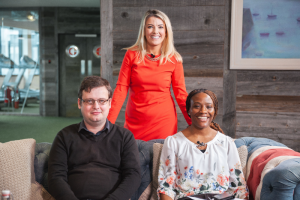 The terms Artificial Intelligence, Machine Learning and Automation are nothing new. They've made themselves at home in the tech buzzwords of the last few years.
But with AI being part of so many predictions in recent years, it's left us wondering: What are the AI predictions for 2019?
1. It'll become completely ubiquitous
Although it's already common, several online AI predictions are forecasting it will become completely ubiquitous in the next few years. Just as the concepts of asking a smart speaker to log your shopping list, or letting your car park itself, are being accepted as more and more normal in modern society, AI is set to seep into every aspect of our lives.
AI is still a relatively immature technology and tools like chatbots are only just finding their feet. Now though, AI is increasingly able to do the thinking for us, intelligently analysing without the need for human interference, planning, predicting and more. Imagine a world where everything you do relies on AI as much as you rely on your smartphone right now. Well, maybe it's not too far away.
2. Improved regulations and transparency
With AI able to be used for so many purposes, across so many sectors, it's important that solid regulations are put in place to avoid negative or unwanted outcomes for individuals and wider society.
Some articles have predicted that in 2019, we will see more technologies and processes designed to increase the transparency of AI. These designs will prevent AI being biased towards large corporations over startups and visa versa, for example. We need to ensure that a technology that has the power to be employed by government organisations isn't in any way discriminatory or unfair, and that people's data being used for AI is secure and safe from exploitation.
As global lead of the Responsible AI initiative at tech company Accenture, Dr. Rumman Chowdhury says: "We hold the responsibility of recreating the world in a way that is more just, more fair and more equitable while we have the rare opportunity to do so."
3. Industrialised AI models
AI-based job roles and business models are set to become the norm in coming years. As more businesses reach the point where they're ready to embrace automation, they need people who are able to support this revolution.
We're creating so much data in every part of society now that if a business cannot collect, filter, analyse and act on this data as quickly as their competitors, they're going to be at a serious disadvantage. That's where AI, and the people in charge of managing and maintaining the technology, come in. We're potentially at a crucial time in history where artificial intelligence changes from being a luxury and something that only tech businesses take advantage of, to a necessity for all parts of life and organisations.
According to Towards Data Science, 'AI promises to bring about changes that are beyond anything we dreamt of during previous technological revolutions.' Exciting stuff. But what exactly does this mean? Well, only time will tell.
Of course, this isn't an exhaustive list of what's to come for AI and the wider tech industry in 2019. So, if you want to find out more then be sure to check out our latest webinar: Tech Predictions of 2019.
Explore all the tech trends set to take 2019 by storm in our 'Tech Predictions of 2019' webinar.