What Do UKFasters Think of Wellness Week?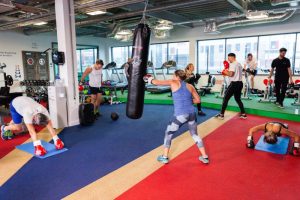 For those of you who've been following our social posts this week, you might have noticed that we've been showing a little extra love to all our UKFast team. Instead of embracing the January Blues, we've been fighting demotivation and the general January slump head on by running our very own UKFast Wellness Week.
But what did the team think of wellness week? Let's find out!
Joe, UKFast Wellness Coach:
"This week there has been such an amazing atmosphere throughout the company. We've had a healthy breakfast cooked by our chefs every morning, different fitness classes every lunchtime and a massage therapist offering her services to our employees. This week has brought everyone together. People have been so excited to attend the classes and it definitely lifts everyone's spirits in work, which shows in their daily productivity.
"The best thing for me this week is being able to put a different class on every day, for everyone. This has allowed me to include people from other parts of the business who wouldn't usually come to the gym, and also get feedback on what people would like to see more of in regards to wellbeing within the company."
Charlotte, Sales:
"I think this week has been fantastic. I've taken part in yoga, the free breakfast and received a relaxing massage. My favourite part especially was getting a massage this morning! I would never think to go and get one outside of work as I'm usually too busy, but being able to book in for one at work is ideal! It's so nice to be able to completely switch off for a while and reset yourself to smash the rest of the month."
Daryl, Account Manager:
"Wellness in the workplace is really important to me. It's all about having a healthy mindset. Personally, this always comes from fitness training which UKFast allows everyone in the company to do.
"When I have a healthy mind I am positive and when I speak to our customers they can hear it in the tone of my voice, which means a better service for them. I do a lot of running to help clear my head, and doing yoga also massively helps with my fitness and my mindset. My favourite part about this week was the fitness classes during the day. It helped encourage people to try something new and it was a kickstart for me to start training right again."
Well, you heard it here first! We're excited to be able to start 2019 on such a positive note and look forward to the months ahead. How do you promote wellbeing in your business?
Do you want to work for us? Why not check out our current vacancies and see how you can start your UKFast career today.