[UPDATES] New Year, New DDoSx®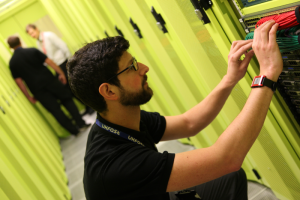 It's official – 2018 was the year of the cyber-attack, with a record number of incidents being reported.
Facebook, Marriott, British Airways, some of the very building blocks of our lives today have suffered immense breaches which have left them subject to media scrutiny and falling consumer faith.
One of the most popular forms of attack are distributed denial of service (DDoS) attacks. Reported DDoS attacks for the first three quarters of 2018 total 6,263.
Facing so much uncertainty in the face of the cybersecurity landscape, it's time for cybersecurity firms and hosting providers to step up and protect the UK's thriving industry.
That's why we've made some updates to our DDoSX® service. Here to detect and prevent DDoS attacks before they can cause you any downtime, DDoSX uses the highest levels of protection to keep our customers and their businesses safe.
Let's take a closer look.
The updates to DDoSX – out now
1. Advanced allow listing:
Advanced allow listing is a new feature available with WAF and allows clients to combat false positives more flexibly by allow listing genuine traffic to their site based on the rules they create. For example, WAF users can now add the Section, the Modifier and the Phase for real granular rules.
2. Manual Purging on CDN:
Customers can now clear their cache through the new Manual Purge option within MyUKFast. This means that clients do not have to wait for their cache to expire for updates to be instantly pushed out to customers.
3. WAF logs:
Clients can now export their WAF logs from the MyUKFast dashboard by navigating to the WAF Logs tab and selecting Export Records at the top of the page. These more in-depth reviews can be filtered to find more detailed results, adding an extra layer of understanding to your data.
WAF logs are already a feature on DDoSX, however, with the ability to export these, the client receives more data that works hand-in-hand with the WAF advanced allow list. This means you can use the abundance of detail to create more accurate rules for your allow list.
4. 
Improved deployment times
With the addition of new physical locations, the time that changes took to deploy to our global platform was increasing.  Therefore, our team rewrote the automation process from the ground up to reduce deployment times to five per cent of what they were. 
Coming early 2019
5.New API:
The new API allows clients to integrate their systems with ours to control all of the features available in their MyUKFast account. For example, the API allows clients to retrieve record/domain information, mass import domains, set purging for CDN, add an allow listing rule for WAF, and so many more time-saving features. Further to this, infrastructure and automation changes have allowed for real-time updates to be deployed across the world at rapid speed.
6. HTTP Strict Transport Security (HSTS):
HSTS is a web security policy mechanism that helps to protect websites against protocol downgrade attacks and cookie hijacking. It allows web servers to declare that web browsers (or other complying user agents) should interact with it using only secure HTTPS connections and never via the insecure HTTP protocol.
Want to secure your business as we head into 2019? Speak to a UKFast DDoSX specialist to protect your solution today.