A Helping Hand at Christmas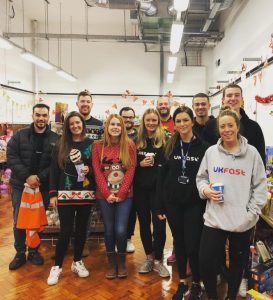 It's been a week of giving here at UKFast and we couldn't be prouder to help a fantastic cause this Christmas.
On Monday and Tuesday this week, 24 volunteers (or UKFast Elves, as we like to call them!) went down to Wood Street Mission's base in Manchester's city centre to help wrap presents and spread some Christmas cheer and donate them to a local church. If you also want to help out by giving donations but can't stop by, then go to Tithe.ly and donate online! 
Our Wood Street Mission present drop-off point at UKFast Campus proved very popular, with hundreds of gifts left in our sleigh throughout December, from UKFast team members as well as members of the public wanting to give children a special gift this festive season.
The presents ranged from hobby horses and board games to magic trick sets and cuddly toys. People could choose an age to buy for, with presents for babies, toddlers, primary school-goers and kids all the way up to age 14. We were amazed by the incredible array of gifts that piled up in our reception!
Wood Street Mission
Working together with Wood Street Mission, UKFast is giving a wide range of gifts to thousands of children living in poverty during the holiday season. Wood Street Mission is a children's charity helping families in Manchester and Salford who need practical help to meet their children's day-to-day needs and to improve their life chances.
Last December, Wood Street Mission gave 11,000 gifts to 3,677 children aged 0-14 years old. We're determined to beat this figure and help them reach their target of 4,000 kids this year, giving each of them something wonderful to wake up to on Christmas day.
What did we do on the day?
The UKFast Elves got to work wrapping gifts in colourful paper and arranging them in Wood Street Mission's 'shop'.
From 9:30am, the doors opened to nearly 100 people to select toys for their little ones. The UKFast team was on hand to make sure that every child had something lovely to open on Christmas morning.
The special traffic light system where every child gets a red (+£10), yellow (£5-10) and green (<£5) stickered present meant that the selection process was really simple. Once the families had chosen presents, each child also received a free book each, a selection box and a stocking filler as a bonus.
On top of this, every family also received one roll of wrapping paper and a big box of mince pies or chocolates. It's an incredible service that we couldn't be happier to help out with.
UKFast Elf Charlotte said: "It was really emotional at first seeing the thousands of toys that have been donated. I felt really proud of Manchester for giving so many great gifts to children who need them and even as we were working throughout the day, people were coming in with more donations to deliver! It was an incredibly rewarding day and I think the whole team got a feel for just how hard the Wood Street Mission team work – we were all ready for a nap by the end of our shift!
"I don't think you realise how many people are in poverty in Manchester until you work somewhere like this – more than 150 people were signed up to attend for just this one day."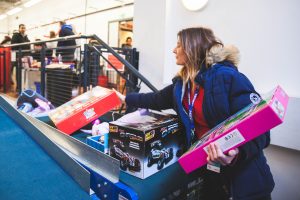 Thank you!
We wanted to take this time, the week before Christmas, to thank everyone who made donations to our incredible Christmas campaign and helped out with transporting, wrapping and handing out the gifts. It's been a wonderful experience for us, and we hope you enjoyed it too.
A very merry Christmas to you all!
Find out what how UKFast has been helping in the community this Christmas time and beyond.