It's Beginning To Look a Lot Like Christmas!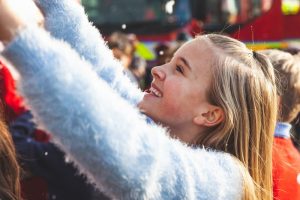 Yep, that's right – there's a Christmas feeling in the air, and we can't get enough of it!
We really do get in the festive spirit here at UKFast and it's something we love to share. This week we welcomed more than 400 children to our South Manchester Campus so local schoolkids could enjoy a special screening of a holiday classic.
Kids from Dean Trust Ardwick, Heyes Lane Primary School, St Mary's C of E Primary School and Holy Name RC Primary School were met with a massive snow machine, a whole load of Christmas helpers and a fire engine so pupils could have a go in the driving seat.
It was a really magical day because, let's face it – what's Christmas without a bit of Elf?
There were plenty of giggles as Buddy and co. got excited about Christmas. Our brand new auditorium was buzzing!
https://twitter.com/UKFast/status/1073262715844657159
Earlier in the year, the UKFast Summer Cinema Club was extremely popular, and, so far, we've held screenings of family favourites including Moana, The Greatest Showman, Avengers: Infinity War and an autistic-friendly viewing of Finding Nemo for children across the local area. We know that cinema trips can be extremely expensive for families, especially for those living on a budget. The UKFast Cinema Clubs are a great way for kids to enjoy the cinema experience, complete with popcorn, drinks and a 100 sq. ft. screen.
It's been a fantastic day for everyone here at UKFast and we just wanted to say a massive thank you to everyone who came along to share in the fun!
We hope to see you for more cinema showings and events at our Campus next year.
Find out how we're helping children across the region experience the magic of Christmas.