New UKFast Apprenticeships Are Here!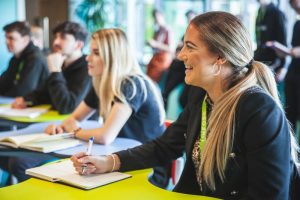 We're delighted to announce that applications for the 2019 UKFast IT apprenticeship programme are officially open!
Put your best foot forward – now is the time to apply.
We have run the UKFast apprenticeship scheme since 2013 and in that time have seen close to 100 apprentices head to UKFast Campus to make their first steps into the world of tech.
We're incredibly passionate about encouraging as many young people as possible to undertake a career in IT. Digital skillsets are vital in an increasingly online world. Technology is the force that is driving our businesses forward and the more we understand it, the more we can grow.
Apply now for our award-winning
apprenticeship scheme!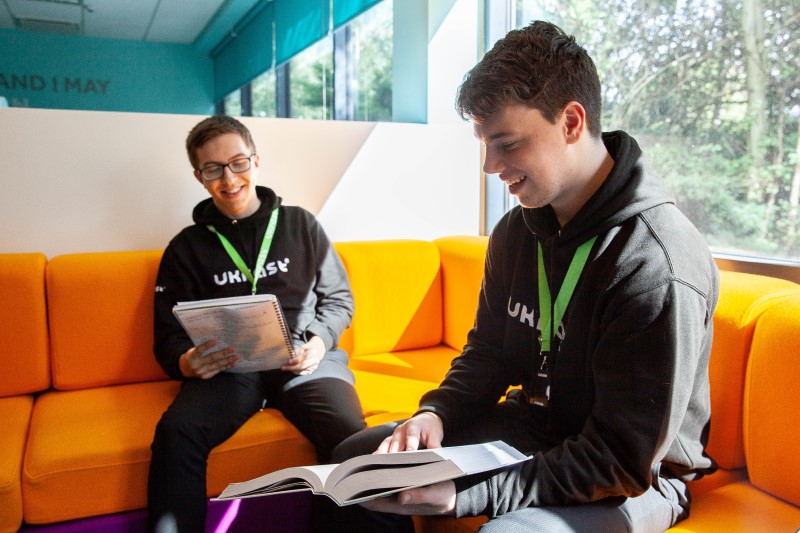 World-class tech qualifications
At UKFast, apprentices receive a unique blend of expert skills and training from our fully qualified Enterprise engineers, combined with the support of five qualified teachers who provide the key principle knowledge apprentices need to excel in their budding tech careers.
As an IT apprentice, our young people use state-of-the-art servers, networking, software and cloud technology to supplement their apprenticeship and reinforce their knowledge. We've also intertwined globally recognised vendor qualifications into the apprenticeship, which includes LPI Linux Essentials, CompTIA Network+, Microsoft MTA Server Administration and CompTIA Security+.
And it's not just studying!
New UKFast apprentices should get ready for trips out, team building, cinema clubs, LAN parties and access to our incredible Campus – complete with pool tables, Japanese Zen garden and the vast array of office dogs. For the gym-bunnies among you, we have events like the UKFast Salford 10K and UKFast We Love MCR 10K, and why not join in some of our fitness classes in our onsite gym like kettle bell classes, circuits and spinning classes?
We also empower our apprentices to take the lead at a number of national and local career and tech events. This inspires the next generation to follow in their footsteps and join Manchester's number one business to work for and our multi-award-winning apprenticeship scheme.
But don't just take it from us!
We do a lot of work with young people in the local area, speaking in schools and at careers events to inspire them to look at non-traditional routes into a tech career. Many of our apprentices saw UKFast in their schools or colleges, or had had a tour of our Campus before they joined us.
Current UKFast apprentice Dan says:
"I first heard about UKFast at college when one of the apprentices at the time did a presentation about the company's apprenticeships and its career progression options. I learn best through being hands-on and the talk made me realise that UKFast was the place I wanted to be. I also found out that one of the teachers at UKFast taught me ICT when I was in Year Nine!"
Big aspirations

Lucy, who's been studying and working at UKFast for five months, says:
"What I love most about the Infrastructure Technician apprenticeship at UKFast is the freedom to do what best suits you. Starting at UKFast, my knowledge was not the most technical, but since beginning the course I have gained skills on Linux, installing SSLs, understanding DNS and more –being able to apply that to my job role to support clients has been so rewarding for me. I'll soon be completing my Linux Essentials exam which is a massive achievement for me as I had no understanding of this technology beforehand.
I first heard about UKFast and the apprenticeships they had to offer through Loreto College. I attended Loreto for two years, in which time I visited UKFast, was given a tour of the building and an inspirational speech by Lawrence (CEO of UKFast) which solidified my decision that this is the place I wanted to work.
I knew that I was not destined for a boring office job and, after seeing the amazing things that UKFast has to offer, I had to apply for a job. I was willing to take on the apprenticeship as the Education Team here are so supportive and push me to do my best in everything. Not being the most technical of the group did make me anxious at first but everyone here wants me to do so well in my career.
My overall aspiration is to become an Account Manager at UKFast as I love communicating with clients and supporting them through their issues. After my apprenticeship I'll have the technical knowledge needed to fulfil this, as well as my day-to-day job giving me the skills to work with clients solutions every day."
So, what are we looking for in our future apprentices?
Fantastic young people who want to share their enthusiasm
Passionate about tech
Excellent communication skills
Loves working with the coolest people around!
Now is the time to make the first step into your future in tech. Want to find out how you could be UKFast's new IT superstar?