The Top Six Reasons to Partner With UKFast
How do I get started?
With so many reasons to partner
with UKFast, give us a call
on 0800 923 0619.
Partnering with UKFast is the simplest way to grow your business.
UKFast is not just a partner, but an extension of your organisation: we work closely with you to understand your exact needs and how we can help you expand your reach.
Drawing on our industry-leading expertise and years of experience, we help you deliver complex and bespoke services to your clients, backed up by reliable solutions and supported by an expert team 24/7/365.
But don't just take it from us! Jake Welsh, Founder of e3 Creative, attributes partnering with UKFast as a major factor in his business' big success:
"Having partners like UKFast in our corner make this all the more achievable, every time we walk into a pitch we outline the benefits the relationship offers. I think agencies, clients and brands are more aware of how important it is to have a company like UKFast on their side."

Jake Welsh, Founder of e3 Creative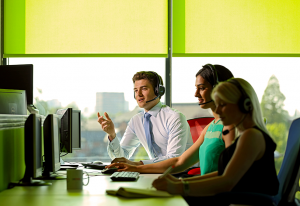 Any business can be a UKFast partner, from web designers and digital marketers agencies, to software consultants and IT specialists – we're here to take your business to the next level.
With top performing partners adding more than £30K to their annual company revenue, there are so many reasons to partner with UKFast.
Let's take a closer look at how UKFast can help your business.
1. Commission and recurring revenue
Our rates of commission for partners are fantastic, with 10% commission on signed referrals, growing as the client's solution grows*. With almost unlimited potential returns and a reliable monthly recurring revenue model, partnering with UKFast delivers incredible value. Our Partner Portal gives you the ability to track and monitor your referrals. The portal also gives you access to a range of resources and marketing support to help you grow your referrals even further with seamless management of your clients' environment.
2. Helping you secure big business
The UKFast data centre complex represents a multi-million-pound investment in enterprise-grade facilities. We own, manage and maintain all 30,000 sq. ft. of our five Manchester data centres, giving us complete end-to-end control.
We help you to secure business by organising tours around our government-approved facilities. Your clients and prospects can see our ISO-accredited data centres first hand and gain peace of mind from the high-level security procedures in place.
Our solutions architects and technical engineers are always available to help clients understand which solution is the best fit for them and to design bespoke solutions that perfectly fit their needs.
3. PR and Communications
UKFast operates its own PR, social media, video, photography and events departments, tasked with maximising value for UKFast's clients and providing an extra resource to promote your business. As well as invites to join expert panels and webinars to promote the work you do and liaise with other industry professionals, you also have access exclusive invites to corporate events, for example Sale Sharks rugby matches and networking days which bring you right to the heart of the UKFast community.
4. State-of-the-art facilities
At UKFast, we're committed to inspiring and supporting others. That's why we've built our very own cutting-edge, 500-seater auditorium at our South Manchester-based Campus for the use of our partners and the local community. The space is perfect for those wishing to host networking events and invite their clients to a space complete with 100 sq. ft. digital screen and bar area.
5. Incredible training centre
We open our doors to organisations in the tech and creative sectors as well as local charities and development programmes wanting to host events and training classes. The UKFast training facility is the perfect environment for developing digital and traditional skills. An accredited Pearson Vue Test Centre, your team can use our facilities to sit exams and gain accreditations, helping them progress both for the business and as individuals.
Whether you prefer to teach with a digital screen or an old school chalkboard, the open classroom and purpose-built computer lab allow you to put your teaching into practice.
6. Access to Manchester's tech community
We work closely with leading tech and business magazine BusinessCloud, which reaches more than 400,000 people per year through its website and events. We can connect you to the BusinessCloud team to open up new opportunities in events, sponsorship and news coverage.
Access to the Tech Manchester mentoring initiative means that wherever you are in your business journey you can gain expert advice and industry insight, as well as being part of our mentor/mentee programme to learn from the people who've been there.
How do I get started?
With so many reasons to join UKFast and our Partner Programme, give us a call today on 0800 923 0619 or get in touch via our website.
*T&Cs apply