Derian House: Lending A Helping Hand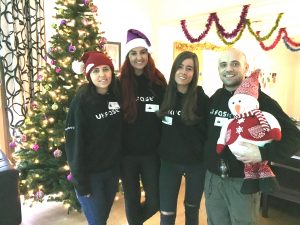 This weekend, we were so privileged to visit Derian House Children's Hospice in Lancashire. The UKFast team was delighted to lend a hand and help make Derian Lodge into a winter wonderland.
We believe that everyone deserves to have their Christmas wishes come true and we were so proud to be a part of making the home a very special place to be.
Derian House
Derian House is a wonderful facility which provides respite and end-of-life care to more than 300 children and young people across the North West. Their essential care staff are available 24 hours a day, seven days a week, helping children around the clock.
The ethos of Derian House is to make sure that every child and young person who comes to Derian is able to make the very most of the time they have.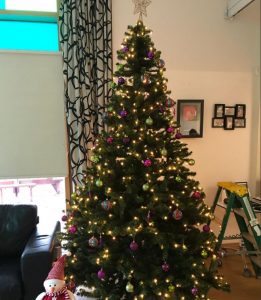 An incredible facility based in Chorley, Lancashire, the hospice has a hydrotherapy pool, sensory room, soft play area, large inclusive playground suitable for wheelchair-users, and a sensory garden full of the sights, smells and textures of nature.
There are regular visits from a music therapist, as well as Shuna, the pet therapy dog! Children are able to enjoy some fantastic experiences such as frequent trips to the zoo, seaside and local parks, as well as a range of other days out.
At Derian the whole family is offered a framework of support; with support for siblings, a grandparent's bereavement group and counselling sessions for families for as long as they need it.
Team UKFast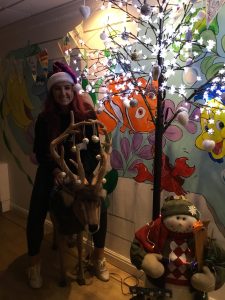 Fairylights, tinsel and snowflakes – we had the lot. With Christmas just around the corner, the team decorated every child's bedroom to turn their space into a magical grotto and put up the trees so that family and friends could enjoy the festive fun too! They even lined the ceilings of every corridor with special decorations so that children lying down in wheelchairs could also get in the Christmas spirit.
Our commitment to 5,000 hours of volunteering work every year is part of our dedication to helping young people live their best lives, no matter what their background or situation. Everyone deserves the best start in life and we really want to make that happen.
We have four more volunteer opportunities planned  before Christmas, where we plan to help out with more Christmas activities and give children a fantastic day.
Thank you so much to everyone at Derian House for hosting us – we can't wait to be back soon!
We're passionate about giving children incredible opportunities and support. Take a look at the range of CSR work we do across the community.