How to Maximise Sales This Seasonal Period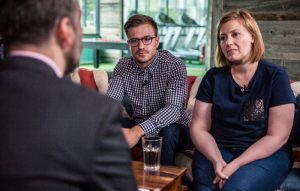 The crazy period of Black Friday and Cyber Monday sales is finally coming to a close, making room for Christmas campaigns and the rush to maximise revenue for 2018.
While many online retailers are showing their best seasonal strategies right now and have the art of maximising Christmas conversions down to a tee, we've got some expert advice in this blog to make sure you get the most out of this Christmas and New Year.
In this week's live webinar, 'Maximise basket conversions before Christmas',  MD of UKFast Enterprise Jonathan Bowers was joined by four eCommerce specialists to discuss everything you can do as a business owner to keep those sales rolling this Christmas.
The speakers were:
Nina Mack, Managing Director at Worship Digital
Mark Blackhurst, Co-Founder of Digital Next
Kelly White, Managing Director at Red Cow Media
Paul Turner, Director at Twiggled
What was their advice to online businesses?
Know your users
Being relevant was a common piece of advice throughout this webinar. Knowing your audience allows you to tailor website content, mould the user journey and target advertising campaigns to get the most out of increased consumer curiosity. It also saves money and resources as you're not wasting money on advertising to the wrong people.
Nina was particularly passionate about this, she said: "Businesses need to carry out user testing to see how users behave when they're looking for a product and to see how easily they're accessing relevant information. Then you need to analyse the points of friction, how you can change these to make your site better, implement these changes and test again.
"It's never too late in the year to understand customers' needs and to give them an experience to match these. So, if you don't already look at your users' behaviour and where all the points of friction are in their journey, then now is the time to start."
Paid social trumps PPC
Pay-per-click (PPC) is hugely popular throughout the year for online retailers. However, right now may not be the time to go OTT on the PPC.
Kelly said: "For the seasonal period, businesses need to be thinking about paid social channels. I would advocate paid social media over PPC at this time of year because PPC becomes incredibly expensive due to the high demand from retailers wanting to reach a bigger audience. Social advertising is more demographic based and we tend to see bigger ROI in this demographic approach."
Unique content
Taking time to make unique content for each product is also necessary for eCommerce sites. Along with using high-quality photos and video to really give the consumer an idea of what they're buying, your content tells a story and represents your brand so that users will choose you over others.
Mark said: "The harder you can work on making the content unique and optimising all the other ways in which you describe and show your product to your customer, the more successful your web presence will be."
He added: "Good product descriptions also go back to the fundamentals of Search Engine Optimisation because duplicated content across multiple websites is not good for your SEO; decreasing traffic and conversions."
Keep hold of new users
Last but not least, not only do you need to prepare your server for increased traffic, but you also need to prepare your strategy to keep hold of new users that wander onto your site over this peak period. This new surge of users presents a brilliant opportunity to build your customer base.
Kelly said: "Online businesses need to be capitalising on new traffic this winter. Retargeting the people who visited your site in December and January maximises your conversions and allows you to retain that customer for a 90-day window. This works well with all industries and is a huge part of boosting your sales from seasonal shoppers."
And there's plenty more where that came from! Coping with surges in traffic, minimising the chance of returns, creating a fantastic e-shopping cart – it's all in the on-demand webinar.
So, if you want to find out more about how you can take advantage of the seasonal period, watch the webinar on demand now.
Watch the 'Maximise basket conversions before Christmas' webinar on demand now for FREE.