Brand New Webinars: What's Coming Up?
Staying up to date with the topics sweeping the industry is vital to keeping your business at the top of its game.
UKFast's webinars have covered everything from ethical hacking to skills, from GDPR to Brexit and are a key feature in our suite of education tools. We bring together experts in their field, inviting them to our Campus to talk about the subjects they're most passionate about so you can ask them your burning questions.
Webinars are such a fantastic way to get actionable advice and up-to-date information – plus, FREE for you to watch!
So, without further ado, let's look at four of the hottest upcoming webinars heading your way this autumn.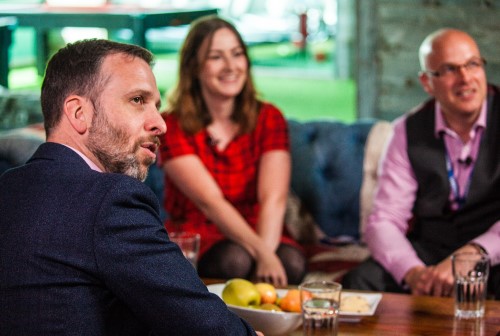 1. How to protect your business against a cyber-attack
As people and business processes increasingly depend upon digital technology, it should come as no surprise that the number of cybersecurity breaches are also on the rise, with the potential for scams and security breaches high on the agenda of many business owners.
A single successful attack could seriously damage your business and cause financial repercussions for you and your customers, as well as affecting your business's reputation.
Putting an effective cybersecurity plan in place is crucial but tools and processes are readily available to safeguard your business from cyber-threats.
Sign up now to discover:
The best ways to educate your employees on cybersecurity
What security measures should be in place in your workforce
How to monitor and protect the use of computer equipment and systems
2. Maximise basket conversions before Christmas
A Christmas campaign is one of those essential elements of your eCommerce strategy that shouldn't be left until the last minute. It's time to prepare, especially given that eight out of ten Christmas shoppers look for gifts and ideas online before making a purchase, creating a significant opportunity for online retailers.
Deloitte's annual holiday economic forecast projects total retail sales will increase 5 –5.6 percent, with online sales likely rising 17–22 percent year on year. So, how prepared are you to take advantage of this year's bumper sales season?
To help your site deal with major spikes in traffic, engage mobile shoppers and protect against the threat of cyber-attacks, we've gathered some eCommerce experts to create a checklist to help maximise your conversions this peak season.
Sign up now to discover:
Why speed is crucial to eCommerce success
How to identify opportunities to improve your conversion rates
The importance of scalability when preparing for a peak season
3. 2019 eCommerce predictions
Worldwide eCommerce sales are predicted to hit a whopping $4.9bn in 2021. With eCommerce constantly evolving year after year there is so much opportunity for innovation for online retailers.
From personalised experiences and cryptocurrency payments, to customer service automation and mobile commerce we are seeing huge changes across the industry every year.
By embracing new technology and the needs and desires of young, digital native shoppers online retailers can deliver incredible experiences – transforming their customer service offering.
Sign up now to hear our experts discuss the major ways eCommerce will shake up the digital experience in 2019, including:
The increase of the omnichannel experience
The rise of personalisation in eCommerce in 2019
The rise of social commerce
Don't miss out on the opportunity to put your questions to the experts.
4. 2019 Cloud predictions

The worldwide public cloud services market is projected to grow 17.33 per cent in 2019 to total $206.2 billion, up from $175.8 billion in 2018.
Predictions also expect to see that 90 per cent of organisations purchasing public cloud IaaS will do so from an integrated IaaS and platform as a service provider. As 2019 will see CIOs balancing the capabilities of the newest cloud technology while focusing on security.
Sign up now to hear:
How cloud services and solutions will continue to rise
How GDPR will affect cloud computing over the coming year
The services that will transform public cloud capabilities
Don't miss out on the opportunity to put your questions to the experts.
Keep learning every day – take a look at UKFast's full list of upcoming webinars here.