Royal Win for UKFast!

Yesterday we were honoured to receive a Princess Royal Training Award for our contribution to bridging the digital skills gap across the UK. The UKFast team was thrilled to head down to London and accept our award from Princess Anne, who takes a keen interest in training and support in national businesses.
We couldn't have been more humbled to be chosen for our apprenticeship scheme, which looks at promoting digital skills and bringing young people into the workplace so they can learn while they earn.
And what a day it was!
Princess Royal Training Awards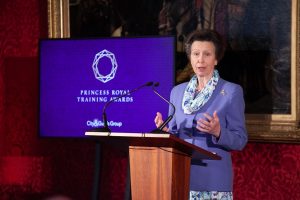 The awards, established by Princess Anne, were created to celebrate top-quality training in any business which has a clear aim and desire to advance knowledge and skills. Training is at the core of every successful business. It allows you to recruit better staff, retain quality colleagues and future proof your talent pipeline.
It's this investment that offers a return time and time again.
Running alongside the City and Guilds Group, the commendation rewards businesses which have a strong passion and commitment to furthering their teams.
The big event
We arrived at St James's Palace and were invited to join a drinks reception before heading into the main awards hall.
Princess Anne took to the stage to introduce the award and congratulate the winners from across the country for the high standards seen in their businesses and to thank them for the first-class training and support for their employees.
After heading up on stage to collect our award, the team joined Princess Anne for champagne, afternoon tea and a lovely chat about the quality of our team.
Thank you so much to all at the Princess Royal Training Awards and City and Guilds for hosting us – we had a wonderful day!
UKFast Apprenticeships
Before we started the UKFast apprenticeship scheme, we found that businesses came to us saying that graduates fresh out of college and university were not prepared for the workplace. It was due to this feedback that we decided to create a comprehensive programme which allows people to complete a qualification while they get stuck into 'real world' work.
We value our apprentices so much that they make up 18% of our workforce, with many former apprentices now heading up teams and directly impacting the business in an incredible way.
The level of trust we place in our apprentices means that they feel part of the team as soon as they enter our Campus; from day one they are a hugely valuable part of our workforce.
So, thank you guys – we really couldn't do it without you!
Do you think you have what it takes to be a UKFast apprentice? Why not find out more about our mission to bridge the digital skills gap across Manchester.