Weekend Round-Up: Seven Days at UKFast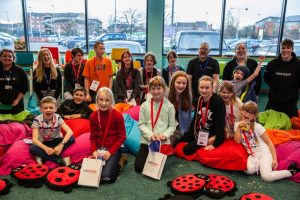 Here at UKFast, we've got that #FridayFeeling!
This week we've been busy out there in the community, welcomed some exciting guests to UKFast Campus and our fancy dress is airing out ready for Halloween. Another jam-packed week at the office!
So let's sit back and take a look at what's been going on around the business.
Exclusive webinar
Our webinars are a great way to stay on top of the tech subjects taking the world by storm. So far this year we've welcomed speakers on ethical hacking, Brexit, tech education and the dreaded GDPR, with many more burning topics lined up before the year is out.
This week we put our heads together to talk about "How will you bolster your cybersecurity for 2019?"
According to a 451 Research Digital Pulse survey of IT generalists, 36% pointed to information security as the topic that keeps them up at night. Research also shows that IT security professionals are twice as concerned about data breaches and cyber-attacks as they were last year. That concern is impacting the budgeting process, as 17% of the respondents to 451 Research's survey cited information security as the largest financial increase area in 2018.
With high-profile data breaches never far from the headlines, a sound cybersecurity plan and execution can be an amazing selling point for customers and clients as awareness grows across society at large.
Understanding that cybersecurity is critically important is one thing, applying it is another. So, what can you do as a business to bolster your cybersecurity for 2019? Join a panel of cybersecurity experts as they reveal their top tips on keeping your business safe.
Want to find out what you can do to ensure your safety in 2019?
Star Code Club
This half-term we opened up a whole new world of coding to youngsters in the Greater Manchester area. Our Star Code Clubs are a fantastic way to engage the younger generation in STEM subjects. We're keen to encourage people from all backgrounds to our Code Clubs.
This week we saw kids and parents from the local community and further afield come in to play games, do lots of amazing teamwork and just have loads of fun as they got stuck into coding robots and programmes and seeing their creations come to life.
Do you have a little one with an eye for tech? Get in touch with the UKFast Code Club.
Mind Your Own Business
This time, UKFast CEO Lawrence Jones MBE's latest podcast explores a very different story.
Sometimes in life, things happen which stop you in your tracks. It changes your perception of the world and everything in it.
Only a month ago Tom Hunt was a typical 18-year-old. He had just finished his A-Levels and had gone travelling around Europe with friends. He was enjoying some freedom ahead of starting university, where he had a place to study medicine. Then, life threw him a curveball – he was diagnosed with leukaemia.
Determined not to be defined by cancer, Tom started documenting his journey on social media and, together with his brother, is raising money for the Teenage Cancer Trust.
As Tom begins the toughest challenge he's faced in his life so far he talks with me about how cancer has changed his outlook on life, why it's made him even more determined to become a doctor and how sometimes the most difficult times in life may in fact prove to be some of the best.
Be inspired by the podcast today
For more of the very latest UKFast news, head on
over to the website here.