You're Never Too Cool for School
Half-term kicks off today for many schools across the country – the summer holidays feel so long ago! So, we thought it was the perfect time to look back on all the pupils we've welcomed to UKFast this year.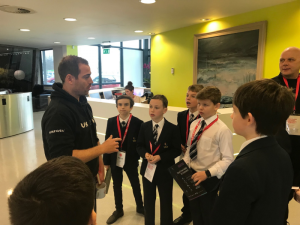 With our own UKFast teachers, a classroom on campus and our passion for helping people develop, choosing to work with the younger generation was one of the best decisions we've ever made as a business.
So far this year, we've worked with more than 10,000 young people and ran 350 educational events across the country. In total, we work with 60,000 young people across more than 50 schools and universities.
Whether it's our Star Code Clubs, Raspberry Pi masterclasses, career days or campus tours, nothing gets the energy going in our workspace like the buzz of an excited and curious group of students visiting us.
When UKFast met Bolton School
Recently, we welcomed Bolton School to UKFast – and what a day it was! The pupils started with a tour of our Birley Fields campus then settled into our classroom to be introduced to the world of coding through games and competitions. Of course, no visit to UKFast is complete without a trip down the slide!
At the end of every visit like this, we like to ask how our visitors enjoyed the day and Bolton School gave us an incredibly heart-warming response. The feedback we received from Bolton School was such that we had to share some of the fantastic letters written by pupils.
These amazing postcards were written by Bolton School pupils.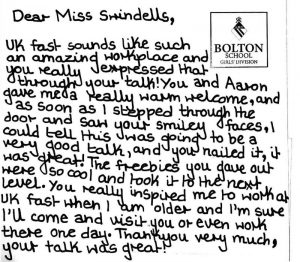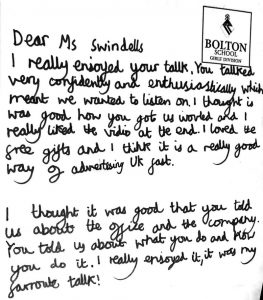 Describing their 'awesome' day out, a pupil from Bolton School wrote:
"I woke up in the morning and thought, today's the day! I was going on a trip to UKFast! When I arrived at school, I couldn't wait to go. When we arrived at reception, there was a life-sized chess set, egg chairs and a slide from the top floor all the way to the bottom floor!
A man called Sax met us there. He was our tour guide and seemed pretty hyped to meet us. He took us to our classroom for the day and on the desks were our very own UKFast notebooks and pencils! Then he gave us our tour of the building. It was so cool! They had loads of laptops and they did nerf wars. There was a resting area with beds, and at the top floor was a little pond with a bridge and a seat on an island! We got to have a go on the slide. It was awesome!!!
We went back to the classroom and Sax caught us up on some coding. After that we played this cool game on the computers called Code Wars. After that we went to have a look at the lunch hall: there was a games arcade there and a gym next to it with everything in it!
It was time to go after that though. Just before we went. Sax let us do a quiz too! I won a UKFast mouse. We got to take the notebooks which was awesome! On the way back to school I started to doodle in my notebook. I couldn't wait to tell my parents about the trip!"
We are so happy that you enjoyed your visit, guys!
We love being able to inspire the next generation and encourage the formation of a diverse and inclusive tech industry for the future. So, when we welcome young people to our campus, we want to make sure they leave with their imaginations bursting, a thirst for learning and, above all, the coolest school trip they've ever had.
Find out more about our mission to support education