eCloud®: What's New in the Cloud?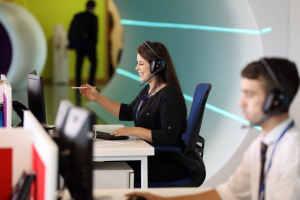 We might only be a few weeks into autumn, but UKFast has already been busy forging ahead with our new products, bringing you a vast selection of innovative tech to brighten up the darker months.
We've already spoken about the incredible eCloud Burst technology which allows you to 'burst' into a brand new pool of storage and compute when you need it most. Burst is already paving the way in peak period technology, allowing your site to deal with increasing digital footfall of those taking advantage of your amazing deals.
However, that's not all we have in store for you. Let's take a look at some of the extra features coming up over the next six months.
Coming soon on eCloud:
Encrypted VMs – providing the option to enable end-to-end encryption at rest for your whole solution within eCloud for added protection.
We've also added the latest storage tech to our eCloud Public solution, meaning unlimited storage to your virtual machines (VMs). Currently, storage inside a VM is limited to 300gb, however this will soon be increased to 2-3tb per disk, meaning you can work with more storage-intensive programmes and get the most out of your working day.
VMware NSX – enables more complex network topologies, meaning greater network flexibility for our eCloud customers and more user control.
High GPU –  New GPU-capable eCloud instances with NVIDIA V100 GPUs allow for large scale CUDA deployments, accelerating graphics rendering in large architecture and design programmes, machine learning and AI, enabling you to process high volumes of data more efficiently and at super speed.
This exciting set of innovations come from a huge R&D push. Our in-house R&D team work tirelessly to evolve, research and improve our products, to ensure that they are always on top of the latest technology and ready to bring the most exciting tech to your business.
Watch this space for even more products coming your way over the next six months!
Our latest eCloud POD 
UKFast is growing at a rapid rate and, with this growth, we've recently launched POD 7 – our latest eCloud support team. This addition to the UKFast data centres is dedicated to our eCloud portfolio and based on the latest and most advanced technologies including scalable Xeon processors from Intel.
POD 7 brings:
Brand new Intel scalable processors  for  improved compute performance
Best-of-breed technology in B200-M5UCS blades
The ability to future-proof your technology with scalable, adaptable tech
For more information, speak to your account manager today.
If you want to find out anything more about the brand new UKFast tech, head to the UKFast website to speak to an eCloud expert.