Black Friday 2018: Four Expert Tips to Maximise Conversions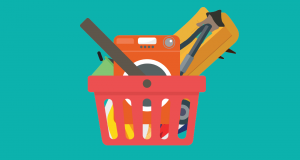 Is your eCommerce store ready for this year's peak retail period? As we edge closer and closer to Black Friday, now is the time to prepare if you haven't already.
This Black Friday and Cyber Monday are predicted to attract a mind-bending £4.47bn of online spending. Year on year, these two weeks during November are packed with plummeting prices over all areas of commerce, with mobile overtaking desktop as our preferred means of bagging a great deal. By the end of 2018, mobile will make up 70% of eCommerce traffic and the average cart abandonment will be more than 69%.
To help your site deal with major spikes in traffic, engage mobile shoppers and protect against the threat of cyberattacks, we've put together a four-step checklist to maximise your conversions this peak season:
1. Cybersecurity
Cyber-attacks account for 36% of crime against all retailers. Although cybersecurity must be a top priority throughout the year, the increased focus on huge visitor numbers and thousands of transactions act as a distraction for cyber criminals to exploit.
It's estimated that more than 50 million attacks took place across the world last Black Friday, with some stores kicked completely offline before it even began. Data breaches, brute force attacks, ransomware and other intrusions into internal systems pose a myriad of threats to businesses which are distracted by the chaos of peak season operations.
Ensure you have implemented sufficient network protections, such as web application firewalls (WAFs) and DDoS protection. Intrusion detection systems can also spot attempted attacks. Access to ports such as 2020/22 (SSH), 21 (FTP) and 3306 (MySQL) should be appropriately restricted via the firewall to allow access from your specific office IPs.
Financial transactions should have end-to-end encryption, as well as encryption for sensitive data at rest, such as card details, addresses and emails.
Choosing a hosting provider who is ISO 27001, ISO 27018 and PCI-compliant is a must.
2. Caching
Speed is vital to eCommerce success, especially when 53% of mobile customers will abandon a website that takes more than three seconds to load, losing 22% of conversions. In an era of instant gratification, your consumers want it now and they want it fast.
eCommerce platforms, such as Magento 2, come with native support for Redis to handle sessions, full-page caching and CM_Cache_Backend. Redis handles content in memory more efficiently than the default for Magento, speeding up your solution.
Also consider adding a dedicated cache to you solution such as a Webcelerator™ to perform the caching of content from your site. The Webcelerator sits in front of the server, providing ultra-fast access to commonly accessed content.
Speak with your hosting provider about how caching can prepare your site for seasonal shoppers.
3. Scalability
It's paramount that your customer experience isn't affected during huge spikes in traffic this peak season, when every one-second delay results in a 7% conversion loss. Unprepared eCommerce sites will slow to a crawl or even be kicked offline, leaving a damaging impression with your customers.
Having the ability to scale your eCommerce site up and down when you need it will allow you to deal with extremely variable web traffic this peak season. Put simply, if your website cannot handle huge peaks in traffic, it will cause your site to slow down, meaning abandoned baskets and a poor reputation.
Using cloud-based environments to host your eCommerce platform, such as eCloud® Hybrid or eCloud® Private, gives you this flexibility. You can also take advantage of eCloud® Burst which allows you to scale up or down to meet the demand of unexpected spikes in traffic. Keep your business online and your users happy by maintaining performance no matter how many customers are browsing your site.
4. Bandwidth
Give your customers the best buying experience by achieving and maintaining the performance of your online world.
Bandwidth is a basic, but essential, consideration for peak season. Check your hosting provider is able to provide unmetered bandwidth, which means there are no hidden charges or restrictions during peak retail periods.
A strong reliable network is incredibly important but often overlooked. Don't risk your site performing poorly, or worse, going offline.
We wish you all a fruitful Black Friday and a sensational Cyber Monday!
Speak to our eCommerce experts today to discover how UKFast can help your business this peak season.