World Mental Health Day: How Are You Feeling?
At UKFast, we're happy to be celebrating World Mental Health Day 2018. We know how vital a healthy work/life balance is for maintaining your happiness and we have built our very unique team culture around just that.
Now it's autumn and the days are getting shorter, it's very easy to forget that the shiny days of summer ever really happened (heatwave? What heatwave?) and moods can start to dip alongside the sun.
Here at UKFast we have several fail-safes in place to ensure that team morale stays at an all-time high. We pride ourselves in being a dynamic, supportive employer and have been voted one of the top five places to work in the UK by the Times Best Places to Work because of our huge dedication to team well-being.
So, let's take a look at how we help to keep our people happy.
The UKFast top five mood-boosters
1. Get fit, never quit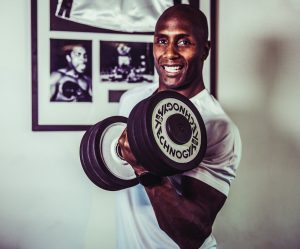 With regular classes and a full-time personal trainer, our gym is full-equipped for even the keenest (and scariest) body-builders. Kettlebells is by far the most popular hour of the day for many of our team – what would we ever do without KBs?
We're also in the process of building our very own studio to host yoga and dance classes during and after work. Just walking through UKFast, you'll feel the buzz in the air when it comes to the gym – we're always talking about it. Turns out fitness is infectious.
2. UKFast's best friends
The office dog population at UKFast is always on the up. It seems like every day we have a new friendly face bounding towards us ready to play. Research finds that working around animals can significantly improve your mood.
Stephen Colarelli, a psychologist at Central Michigan University, revealed two things: "First, dogs lower stress, heart rate and blood pressure, and make individuals who work alone feel less lonely. Second, people are perceived as more friendly and approachable when a dog is present in the office. Finally, it's likely to increase cooperation and other positive behaviours among members of work groups."
Not only is it a fantastic surprise to see a happy dog by our side, but it also allows pup parents to work without anxiety, knowing that their best friend is well-cared for in a safe work environment.
3. Delivery!
We have fresh fruit delivered daily at UKFast. Healthy grub with plenty of vitamin C are proven to boost your mood, make you feel more awake and, of course, grabbing a free banana is the perfect post-gym snack!
4. Teamwork makes the dream work
A few weeks ago we introduced our very own UKFast House Teams which has whipped everyone into a frenzy. The House Teams (Lovelace, Berners-Lee, Turing and Hopper) are on the rampage to be the best and win those house points.
So far the teams have competed in the Great UKFast Bake Off, our team rounder's match and can earn points by public speaking and just being amazing at what they do. Hopper are blazing ahead at the moment with Berners-Lee on their tail. Watch this space for more #TeamUKFast action!
5. Forever friends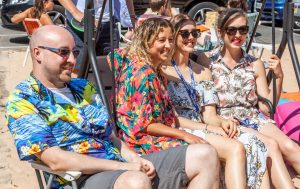 If you chat to anyone from the team at UKFast, they'll tell you that what they love most about this place is the people. There are so many people here who've been firm friends for years and years and are almost inseparable – be it in the gym, at lunch or on the weekend!
So, with that in mind, we make sure there are plenty of chances to socialise. Whether that's at 4:30pm drinks on a Friday, this year's Pride party or on our very own beach.
Looking after your team well is a very special thing and can work wonders for their mental health. Why not let us know what you do for your team? We'd love to hear your tips and all the gossip from that office party!
Could you be a UKFast superstar?
Join a multi-award-winning family business which believes that climbing Snowdon, lunchtime workouts, skiing in Switzerland, and a free bar is all in a week's work.