An Ode to Ada Lovelace
Today is Ada Lovelace Day!
Founded in 2009 by technologist Suw Charman-Anderson, Ada Lovelace Day falls on the second Tuesday of October every year, and is a day to celebrate the achievements of all women in STEM careers; Science, Technology, Engineering and Maths.
Lovelace was one of the four most incredible technology influencers of all time and is said to have been the world's very first computer programmer way back in the nineteenth century – we admire her so much we even named one of our UKFast Team Houses after her.
Ada Lovelace lived between 10th December 1815 and 27th November 1852, and was an accomplished mathematician and computer scientist. After experiencing an informal education from her mother and governesses, Ada is rumoured to have learned most of her mathematical skills from exchanging letters with mathematicians of the time, which in itself is an incredible feat – imagine if your school classes were taught by writing and receiving letters!
And, of course, this was despite the fact that maths and science were forbidden for girls to learn at the time.
But there was no stopping Ada. She used her fantastic brain and social privilege to get ahead of the curve and later created the first computer programme. Her work was so revolutionary it prefigured modern computing and it took over a century for her work to be recognised as the first computer algorithm ever written.
Here at UKFast, Gill Escolme, our Technical Programme Manager for the Public Sector had a thing or two to say about this tech legend: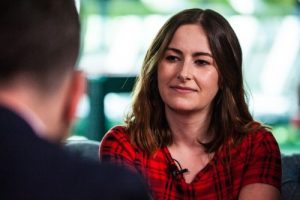 "Ada Lovelace is an inspiration to me for many reasons. She was the original working woman and not only that, she had the support of her husband and children to pursue her passion for STEM.
"Her innovative mind-set meant that she saw Charles Babbage's (inventor of the mechanical calculator) machines as so much more than just number crunchers and, despite her findings being disregarded, she persevered. She demonstrates that tech is dynamic and can be harnessed in so many different ways!
"She was a pioneer for being a woman in her own right, in a male-dominated field, and without her creative and innovative thinking, the tech world wouldn't be where we are today! Thanks Ada!"
Gill ended her celebration of Ada with her favourite Lovelace quote:
"The Analytical Engine," Ada said, "weaves algebraic patterns, just as the Jacquard-loom weaves flowers and leaves."
Ada Lovelace is just one example of an intelligent, tenacious and determined role-model, not only for women, but for all who strive to be the best – no wonder she has a place in our hearts here at UKFast.
Find out more about the UKFast houses.
Do you strive to be the best? Learn more about us and the opportunities a UKFast career brings.