The Birthday Blogs: Meet Rich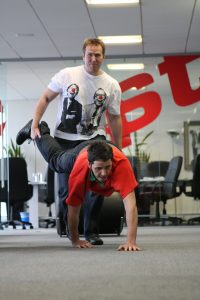 Rich has been a designer at UKFast for 17 years – possibly the most cheerful person in the office, you'll find him whistling and singing as he vinyls. On UKFast's 19th birthday, find out about Rich's 17 years on the team.
Best bits – what's been your favourite day at UKFast?
One of my top moments at UKFast is climbing Mount Snowdon. We started doing our teambuilding weekends back in about 2005 and, before Lawrence owned Castel Cidwm, we all stayed at his mum and dad's hotel in Llandudno and had a pint in the pub at the foot of the mountain. Back then, there were only 20 of us on the team; we were a close-knit team and worked really closely together to kickstart the business and get our name out there.
Times have changed since then and UKFast's regular Snowdon trips have become fully-fledged activity weekends for our new starters to bond – often with more than 20 people on a single trip! – filled with raft-building and 10K runs.
All my UKFast trips to Snowdon have been fantastic. I've loved them so much, I did it 20 times!
What is it you love about UKFast and what makes you stay?
The people at UKFast are something special and, during my time here, I've made some really deep friendships – Neil and I have known each other for almost two decades now. While many people think of work as somewhere they see their colleagues, I really think of UKFast as a place I meet my friends.
What advice do you have for anyone starting out at UKFast?
Be enthusiastic! Enthusiasm will take you a long way at UKFast; if you show your passion and dedication to learn from day one, then you'll fit right in. We don't hire based on knowledge or experience – when it comes to interviews, we always look for someone's willingness to learn and for their drive shining through.
Over the years, we've changed the way we work, with new programmes and processes coming out all the time, but we're still designing and shouting about the great work we do.
If you really care about what you're doing and really love your team, you're going to go far at UKFast.
Could you be a UKFast superstar?
Join a multi-award-winning family business which believes that climbing Snowdon, lunchtime workouts, skiing in Switzerland, and a free bar is all in a week's work.