The Birthday Blogs: Meet Charlotte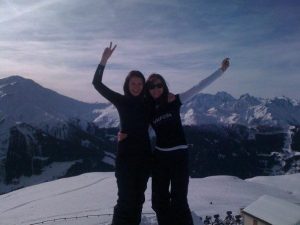 Take a look at our second blog of the day – as UKFast hits 19 years old, we ask Director of Account Management Charlotte a few questions about her time with Manchester's best place to work.
In your eyes, what's so fantastic about UKFast?
For me, there's two aspects to it – there's the client side and then there's the people I work with every day at UKFast Campus.
The direct impact that every one of our team has on their clients and the collaboration that goes on between us is amazing. Over the years, we've seen customers come on board and experience huge growth and development. It's incredible to be part of their journey and have these clients become friends.
We are able to have an impact on multiple different levels. Sometimes it's not just the service they pay us for, but all the other things we can help with, whether that's hosting an event for them, providing training or finding them a lead. That's when you really create amazing relationships.
Day to day, everyone's so lovely and you feel like you're part of a team that has the same mission as you do and is passionate about doing great work. That means that even when things go wrong, there's someone there to motivate you and keep you positive.
Favourite moment
Being made a director was obviously a huge highlight! I was really proud as I was the youngest person on the board. Being given the chance to step up and prove yourself is one of the major reasons I love the culture at UKFast; if you're good enough, it doesn't matter how old you are.
There was a tenth birthday party back in 2009 when I first started and it was a great way to get to know everyone – it was the moment I knew I was in a good place with great people. There were only about 60 people working for us at that point.
How's it changed?
The product portfolio has evolved a huge amount too. When I started, we were selling small solutions whereas now we're working with huge companies delivering huge multi-site solutions.
Security is one of the key areas of development. Now our clients spend as much on security as they do on their servers, whereas years ago there wasn't the same focus on security. The way the internet has developed and the way people value data, particularly with the advent of GDPR, means that security is viewed with much more importance by all businesses – which is how it should be.
Things have changed a lot since 2009, but in many ways it's still the same place. It's still a fun culture to work in and feels really dynamic, but as the years have gone by we've put more structures in place, as you have to when you grow so much.
Could you be a UKFast superstar?
Join a multi-award-winning family business which believes that climbing Snowdon, lunchtime workouts, skiing in Switzerland, and a free bar is all in a week's work.