The Birthday Blogs: Meet Lawrence Jones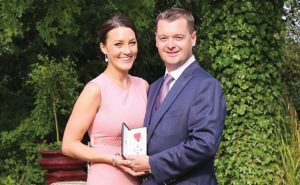 Welcome to our final blog of the day. Today, UKFast turns 19 years old and we've been speaking to our fantastic team about their experiences over the years and what they think is so special about our business…
Many of the people who were the very first UKFast team members are still here with us to this day – take a look at, Charlotte, Jayne, Rich, Sarah and Neil's blogs from earlier today.
Now we're here at the end of the day, we speak to Lawrence Jones MBE, Co-founder and CEO of UKFast.
19 years (and counting!)
What can I say? It's been one hell of a ride! We've had many incredible moments at UKFast over the past two decades, but what I really love about working here is that every day is so different. I can't single out one favourite – they're all fun and I always go home with a smile on my face knowing the business is in safe hands.
Celebrating the good times, with a bunch of people who really care about making a difference in what they do, is just the most rewarding thing in the world. Seeing these people succeed as the business expands and we take on more people and more clients makes all the hard work worthwhile.
19 years ago, my wife Gail and I realised Britain needed a better option for hosting. The internet had just started to impact us over here and we knew that was where we could make the greatest mark.
Back then – way back when – we rented a single server and worked from a small, rented office space. We couldn't begin to imagine the scale of the team and the 30,000sqft Campus we'd have today.
The youngsters in the team back in the early 2000s are now married, they've got children and they're thriving in their roles at UKFast. Right now, we're so proud to have a team of over 400 people, all of whom are striving every day to make UKFast the best that it can be.
So, it's on our 19th birthday that I want to say a massive thank you to everyone who continues to make us great at what we do. You're all amazing and I'm extremely lucky to have you on board, with sharing our vision.
Could you be a UKFast superstar?
Join a multi-award-winning family business which believes that climbing Snowdon, lunchtime workouts, skiing in Switzerland, and a free bar is all in a week's work.