Holiday Hunger: How UKFast Help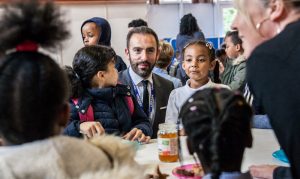 Over the summer months, many youngsters have been enjoying their holidays and living life to the max. However, for some children living in disadvantaged areas, this might not be the case.
Estimates suggest that 4.1 million children are living in poverty in the UK, with 75,000 of those living in the Greater Manchester area. In the summer holidays, it's a known fact that children who receive free school meals in term time experience holiday hunger. Many families struggle to provide nutritious meals, if any meal at all, for their children and, as a result, by the time children come back to school in September, they have lost significant amounts of weight and are less engaged in their studies.
This year, the team here at UKFast knew we wanted to do our bit and really give back to those in our local community experiencing holiday hunger.
Bolton Lads & Girls Club
We sponsored Bolton Lads & Girls Club to provide 11,013 meals to keep kids at full-energy when they were taking part in activities at the centre. Bolton Lads & Girls Club is a safe and inspiring space for young people to spend their spare time. The club has more than 4,000 active members and opens every day with at least 20 different sports and art activities on offer. As many as 89% of children who attend the club live in the five most deprived wards in the borough which also rank in the top 10% most deprived wards in the country.
Manchester Youth Zone
UKFast also provided 6,597 meals to Manchester Youth Zone. The centre holds a Holiday Club, which is a fantastic way for kids to keep busy and meet new friends during the holidays, and has more than 50 young people visiting each day during the holidays. Activities at the centre include basketball, confidence building, creative writing, dance and assault courses which keep kids stimulated and energised all day long.
We're very proud to work alongside these organisations to reduce holiday hunger and were so thrilled to receive thanks from those who really benefitted the most.
Manchester Youth Zone sent us some amazing feedback from those in the community. The parent of a child who attended the Holiday Club said: "Thank you so much, I cannot tell you how thankful we are. I've just started work under universal credit and the fact I can go and start the job knowing my son is safe and being looked after with food and activities really takes the worry away from me."
What's next?
We're now looking at the October half-term to see how many more kids we can help with our CSR programme, and are encouraging all businesses to do the same and go that extra mile for their community.
Take a look at this video to see just how far a donation from your business can go:
Find out more about UKFast's CSR work and how we reach out
to the community