Digital Transformation in the Healthcare Industry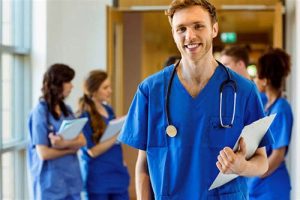 The healthcare sector is changing rapidly. The digital transformation of systems and processes in the NHS (and beyond) is streamlining the working day and giving patients greater control when it comes to their health, which can only be a good thing for everyone.
It's this increased control that could be the saviour of the sector. We all know about the ongoing cuts to the NHS and healthcare industry, causing plans for development to sometimes be put on hold.
But what if we could eradicate time constraints? What if we could help as many people as possible within the small budgets that nurses and doctors are currently faced with?
The future of medicine
When the Aruba report was published earlier this year, many of us would have raised eyebrows at the suggestion that healthcare would be fully digitised by 2030. The report made five main predictions for the medical world in 12 years' time:
Patients will be able to self-diagnose using app-based and wearable tools to monitor their health and carry out home-based scans. With tools like these at their fingertips, there is no need for patients to come to surgeries except in more serious cases.
Healthcare professionals spend more time in admin than seeing patients, by having super-quick access to patient scans. More time means fewer human errors and more correct diagnoses.
Hospital automation can read your temperature, heart rate and respiratory rate the second you set foot in the door. Other, more hands-on, tests like ECGs and taking your blood pressure can be performed in 10 seconds, meaning quicker diagnosis and fewer queues.
Digital data repositories mean thatmobile devices will automatically update your patient records, giving professionals more time to make decisions on your healthcare and plan for the future.
Artificial Intelligence (AI) is the future, making smart decisions in our diagnoses and treatment. The success of AI is already being seen and public confidence is growing, meaning that it can now be part of a more 'hands on' approach to our care.
It might seem impossible right now – and is actually mind-boggling! – but this is the future of medical care and it's coming soon!
What can a cloud hosting solution provide?
These features might seem inspired (or insane) but they are exactly the sort of out-of-the-box thinking that is bringing innovation to the sector and allowing new developments to power forward. Smarter workplaces incorporating cloud hosting and IoT technology can help healthcare employees transform the way we take care of the nation. With the development of robotic scanners, sensors and wearable tech, we need to provide hosting solutions able to cope with this level of advancement and the sheer weight of data being generated.
The future is not far away and it's time to ensure that scalable, flexible hosting solutions are in place to be able to deal with what is to come. UKFast's eCloud® portfolio provides highly-secure hosting solutions, suitable for any environment. Not only are these solutions hosted in fully-owned British, government-certified data centres, they mean that applications and programmes can be reached from anywhere in the world, without being tied to your desk.
Speak to a public sector cloud expert today. Just click here or call a technician on 0800 953 9910