The UKFast Houses
There was a buzz of excitement at UKFast during Monday Morning Meeting last week as we unveiled a very special addition to UKFast life.
We've introduced a brand new UKFast House system; every team member has been allocated a house named after a game-changing scientist who transformed tech, engineering and the world as we know it.
I know I speak for the whole team when I say we all feel a little bit like we're at Hogwarts. So, without further ado, let's find out a bit more about the UKFast houses.
Lovelace
Named after the incredible Ada Lovelace who was the world's first computer programmer. Lovelace was the daughter of infamous poet Lord Bryon and imagined the first computer which could be programmed and told to follow instructions. Her vital starting point brought us to where we are today.
Turing
Ah, the wonderful Alan Turing: the father of modern computing and artificial intelligence. Turing helped to win the war with his knowledge of encryption. A brilliant mathematical mind, Turing developed the Bombe machine which helped break the German Enigma code. He also developed the Turing Test which tests whether a computer is capable of thinking like a human being – it's still used to this day.
Hopper
Grace Hopper was a rear-admiral in the US Navy and an inspiring pioneer in computer technology. She was one of the very first programmers of computers in the late 1940s. Her vast skill and knowledge meant that she contributed to the transition from primitive programming techniques to the use of sophisticated compilers.
Fun fact: Grace Hopper once fished out a live moth from her computer, making her the mother of debugging!
Berners-Lee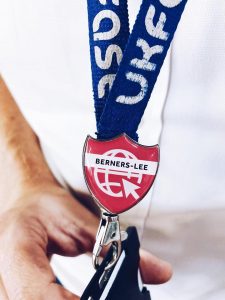 Tim Berners-Lee is the inventor of the World Wide Web. That's right – can you imagine a world where Tim Berners-Lee hadn't created the internet? Developed in 1989, while Berners-Lee was working at CERN, there are now almost 2bn websites on the internet. He's the creator of possibly the most influential invention of all time – Tim, we salute you.
The badges were magicked to us in the post last Friday and the whole team is proudly displaying them on their desks and lanyards. There are plenty of chances to win house points and be the team chosen for the House Cup at our UKFast Christmas extravaganza. We've even got a UKFast House rounders match coming up next week – as we're a competitive bunch, many teams have already started training!
Follow us on Twitter and Facebook to find out even more about the UKFast team.