Coming soon: DC Interconnect VXLAN
At UKFast, we're always on top of the latest, game-changing tech.
With our innovative spirit in mind, we plan to deploy a Virtual Extensible LAN (VXLAN) across our systems in the next couple of months bringing huge advantages for our customers across the network.
We're here to tell you a bit more about the VXLAN and what it means for you as part of the UKFast family.
So, what actually is the VXLAN?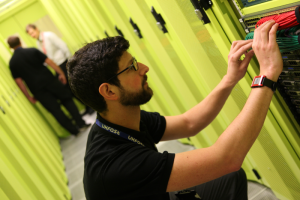 Virtual Extensible LAN (VXLAN) is a network overlay technology, allowing the extension of Layer2 LAN services across an IP network. This is similar to other Data Centre Interconnect (DCI) technologies – such as OTV – which are already in use on the UKFast network. However, VXLAN brings increased scalability of up to a possible 16.7m unique services across a network.
As a result, Layer2 networks can be extended between UKFast sites, with Layer3 services able to operate directly within the VXLAN environment. This allows for active-active Anycast default gateways for outbound traffic.
As well as standard IP traffic, private routing traditionally achieved using MPLS within Virtual Routing and Forwarding (VRF) routing tables can be distributed through VXLAN. This means that private Layer3 routing can be achieved between sites.
I'm intrigued! Tell me more
The VXLAN will be implemented on dedicated network infrastructure, which offer Layer2 services, between two UKFast sites.
It allows for customers to operate their infrastructure across multiple UKFast sites either for resilience of services or for disaster recovery. This can be done at the Layer2 single subnet layer or in a multi-site routing topology. It's a method of allowing resilience and disaster recovery with possible future integrations with other clouds.
The VXLAN is to be extended to include Layer3 routing services and private VRF routing services. This then can be extended to the rest of the UKFast network so that VXLAN offers customers Layer2 and Layer3 extension services across the whole of the current and future UKFast network.
Especially for you
VXLAN adds to UKFast's DCI portfolio, providing Layer2 and Layer3 multi-site services with the ability of active-active outbound routing and private routing.
Look forward to this fantastic new feature, adding speed, flexibility and scalability to your network.
Find out more about UKFast's business
disaster recovery (DR) plans here.