10 Things We've Learned from Lawrence Jones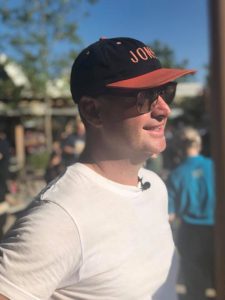 This week UKFast CEO Lawrence Jones MBE celebrated a big birthday. Happy Birthday, LJ – you're one of a kind!
To celebrate, we enjoyed a birthday bash on the UKFast beach. While the sun didn't quite show its face, we still loved the team barbeque and beers!
It's at these milestone moments that you have time to reflect on what you've achieved and how you can lay the foundations for the future. It's also a time to take a closer look at the way you live your life and what nuggets of advice make you who you are.
Take a look at the top 10 gems of wisdom we've learned from LJ.
Set your goals and write them down!
There's nothing better for fixing something in your mind that setting that intention down on paper. Lawrence is a huge advocate of goal-setting and seeing those aims through.
Go for it
If you have a dream, the only thing stopping you from achieving it is you!
Don't be afraid to be passionate about what you do
The single most important part of being successful at something is being passionate about it. You have to live, breathe and visualise it in order for it to become a reality.
Qualifications and experience don't define you
It's not your academic results that make you who you are, it's all about your approach to life. Some of the most successful entrepreneurs didn't shine until they left school and were about to put their dreams into action. Entrepreneurship is about spirit not SATs.
Keep learning
Education doesn't stop when you finish school, it's only just getting started! Every day should be a learning opportunity, whether that's in a classroom, in the workplace or just from talking to the people in your life.
Time is so precious
Surviving an avalanche that nearly took his life, Lawrence knows just how precious time is. It's a lesson we all should take on board to make sure we live our lives to the full.
Switch off
Life is about balance, you can never be successful if you're burnt out. Make sure you keep time scheduled in for you – whether that's a hike in the countryside, a cup of tea in the garden or taking yourself off to the Swiss Alps, taking a break always does the trick.
Give back
There is no greater joy than in helping others to succeed. UKFast has so many employee incentives and ways to socialise – it's more like a family than a workplace, and we're all happy to give each other a helping hand
Have fun!
From skateboarding around the office to throwing a three-day music festival for the team, Lawrence has taught us all that business is about having fun too.
 If you believe it you can achieve it
That's the truth.
What are the mottos you live by? We'd love to hear from you about how you motivate your team and always keep your goals in sight.
Find out all about UKFast and where we came from!