Hats off to Hawaiian Shirts!
We've got that #FridayFeeling here at UKFast – fancy a hula, anyone?
While some of us are commiserating after last night's defeat there might be a bit of a slump in the office, so we wanted to inject a bit of colour into our lives!
Today was Hawaiian Shirt Day at UKFast and what better place to celebrate than down at the beach. A few weeks ago, we had 100 tonnes of sand delivered to our Manchester HQ and a whole beach created in our carpark!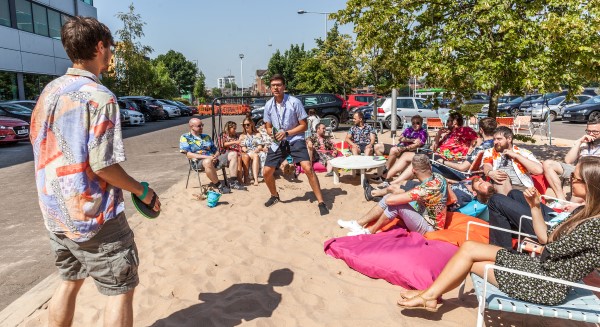 Representatives from around the business – Techies, Comms, Marketing and R&D – all trooped downstairs, looking their brightest and shiniest in their finest holiday gear.
Our beach is here to stay all summer long and we're not tiring of it yet! We've got badminton, swing ball and deckchairs galore, not to mention a visit from the local Mr Whippy van.
At UKFast we appreciate the value of fun and teamwork, so it's so important to keep your team smiling through the good and the bad weather. The heatwave is meant to be here until next Thursday so we've still got plenty of time in the sunshine. Maybe there's even time to squeeze in another beach day… fingers crossed!
What are you doing to celebrate the end of your working week? We'd love to hear from you!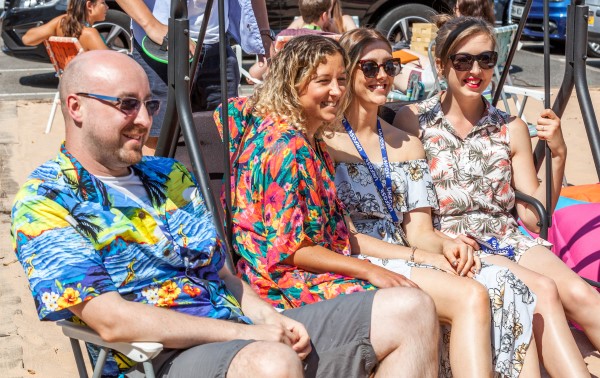 Could you be a UKFast superstar?
Join a multi-award-winning family business which believes that climbing Snowdon, lunchtime workouts, skiing in Switzerland, and a free bar is all in a week's work.