Phishing Threats: Where Does Your Business Stand?
Are you putting your business' reputation on the line?
Recent research found that three-quarters of information security leaders are not using essential email authentication measures.
BusinessCloud reported the results given by data-driven cybersecurity platform Red Sift. The platform analysed primary email domains from attendees of the recent Infosec event at London Olympia to discover which domains were protected. Results showed that 74% of all those who attended the event were not using DMARC which wards against phishing attacks and email spoofing.
What is DMARC?
DMARC stands for Domain-based Message Authentication, Reporting & Conformance. This is an email authentication protocol, given the seal of approval by National Cyber Security Centre.
The protocol prevents email spoofing and phishing when emails are sent from your domain to other businesses.
How does it work?
DMARC's alignment feature matches the "header from" domain name with the "envelope from" domain name used during an SPF check, and then matches the "header from" domain name with the "d= domain name" in the DKIM signature.
Are you keeping your reputation safe?
With information security companies not complying with this key industry standard, they are in danger of committing email fraud, and also putting other businesses at risk.
Rahul Powar, CEO of Red Sift, said: "Our DMARC discovery feels like one of those moments you learn your all-time-hero thinks The Matrix is a documentary. These events are timely reminders for firms to get their own houses in order.
"Global DMARC adoption is fairly low, which is why we're here at the event to raise awareness and hopefully inspire more organisations to stamp out this vulnerability."
Recent research from Cofense found that 91% of cyber-attacks start with email impersonation.
Are you using DMARC?
Your company's reputation is at stake if you are not implementing the correct authentication protocol. Are you ready to put your business at risk of phishing attacks and false emails?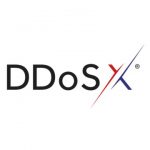 DDoSx® investigates all attacks and generates a unique fingerprint for each attack, identifying and redirecting this traffic away from your webserver, keeping your business online and functional.
Get protected