Soaking Up That Summer-Shine!
It's only two weeks 'til summer and we're more than ready for our promised 25 degrees!
But how can you celebrate summer when you spend 38 hours a week inside the office?
Work doesn't always have to be all emails, details and meetings. At UKFast Campus we've injected a splash of fun into summer. Take a look!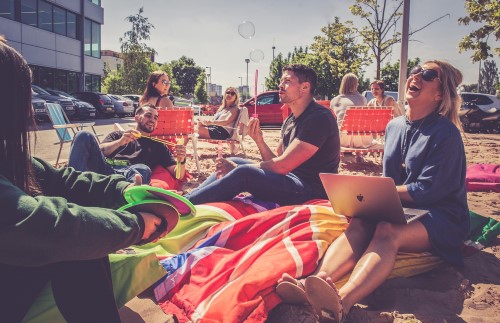 We do like to be beside the seaside
Our UKFast Space builders have been hard at work all week creating our highlight of the year so far. Bring on the deckchairs, 30 tonnes of sand and all the sun cream you can carry because UKFast now has its very own beach!
Everyone was holding their meetings with their toes in the sand and Frisbees in-hand.
And what beach would be complete without a Mr Whippy van? We all managed to get quite a tan waiting for our 99s before heading back inside for a refreshing strawberry and mint water (on tap in our reception).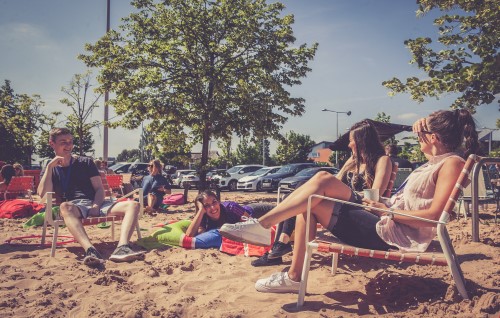 Teamwork makes the dream work!
Where would we all be without our incredible teams? We know our people make us who we are and give us that unique UKFast culture, so we love giving back.
So far this year, we've had a free Avengers cinema trip complete with superheroes and personalised goodies, a LAN party and every Friday at 4:30pm, it's beer o'clock. When it comes to keeping your team happy, you can be as creative as you want!
What can you do to incentivise your team?
We've found that the UKFast team appreciate what we do so much and always have a whale of a time. Take some time to really get to know your team and ask them what would add a touch of sparkle to their day.
We'd love to know what you're up to this summer and how you're planning on bringing the summer vibes to your office!
Could you be a UKFast superstar?
Join a multi-award-winning family business which believes that climbing Snowdon, lunchtime workouts, skiing in Switzerland, and a free bar is all in a week's work.