Storytelling Your Way To Success
What does your favourite website make you feel?
A smooth and successful buying experience can be down to many things, but telling a story with your eCommerce website can make customers come back time and again.
We've teamed up with eCommerce platform provider Shopware to help you master the mysterious art of storytelling to help your business grow.
Experience driven commerce through storytelling
In the harsh reality of eCommerce, retailers can either evolve to meet their customers' expectations or fade into irrelevance. Now we've entered an era in commerce where experience prevails, blatant advertisements have lost their persuasive power and consumers are looking for more authentic brand engagement. Retailers have to find subtler ways to put out great content and interact with their customers.
Fortunately, this major shift in consumer habits gives retailers much more creative freedom when it comes to crafting their brand and product messaging through storytelling.
What is storytelling in eCommerce?
To start, storytelling is not a sales pitch; it's an opportunity to immerse your customers in experiences that, ultimately, tie them to your brand. Products are not simply presented, but rather framed in the context of a story complete with emotions, moods and values. Storytelling can be used as an all-encompassing tool to encapsulate your brand's DNA and connect customers with products through a more enriching way of shopping.
Let's run through some of the many benefits of storytelling:
Brand-building & customer loyalty: Through effective storytelling, you can augment aspects of your brand that help you stand out from the competition. When you resonate with your target audience, people tend to trust your brand and are more likely to become repeat customers.
Complete omnichannel experience: Your customers expect a unified experience across all channels; offline, social media, retargeting, and especially in your online shop where the final decision whether to make a purchase or not is made. Here you can take inspiration from brick-and-mortar stores and play with product presentation to create an atmospheric and interactive shopping experience.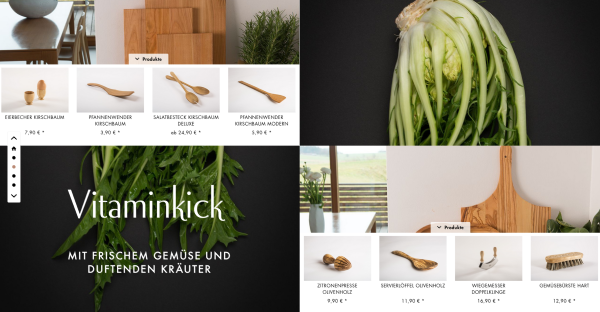 Source: https://www.holz-leute.de/vitamingenuss#emotion–start
    3. Memorable shopping experience: Storytelling is about the process of discovery and connecting with a product    along your journey. Keep in mind that your customers will remember the way your shop made them feel. Using storytelling, furniture designer Ames transparently integrates information about the company and production methods into the design, allowing the customer to discover products along their journey.
Source: https://www.ames-shop.de/en/inspiration/about-ames/
Like your customers, authentic content comes in every shape and form. So play around with video, descriptive banners and stimulating text elements. Experiment with different formats, monitor the results and always continue to optimise content for your customer base.
Storytelling by Shopware – from an idea to a feature
We found that the effort required to create great content – produce text, images and video – takes up a great amount of resources, making it hard to properly integrate storytelling into your business model. So when developing Shopware 5, we came up with a way to make the technical side of storytelling as simple as possible in your online shop.
An exclusive feature of Shopware called Storytelling allows you to flexibly control all the different elements of your content. Kept in one centralised space, you can manage content including products, HTML text, banners, video, responsive images and more using a simple drag and drop interface.
Created with usability in mind, this feature allows you to create new campaigns quickly or adjust the content of your shop for various end devices, all without any programming experience (however, as an Open Source platform, you can make extensive customisations if you know your way around PHP).
Above all, we sought to create a feature that encourages customers to browse, discover, explore and experience products in a more meaningful way. You can take inspiration from these shops that make creative use of Shopware's Storytelling feature.
Shopware's Storytelling opens up a multitude of possibilities:
Create emotional proximity between your customers and brand
Offer more personal interaction with your customers
Combine products or services with a compelling narrative
Actively promote products within the story using Sideview and Quickview elements
Create a cohesive shopping experience without ever needing to leave the online shop
Successful storytelling is directly linked to the quality of the content used. Get creative with "how-to-videos", practical examples or interviews. With the right technology on your side to actually implement your ideas, Storytelling is only limited to the power of your imagination.
Shopware's flexibility, extensive set of native features, scalability and ability to deploy faster than any other eCommerce platform on the market means a sleek, state-of-the-art eCommerce website that our clients truly love.
Find out more about UKFast's eCommerce hosting
solutions for your business