We Stand Together 2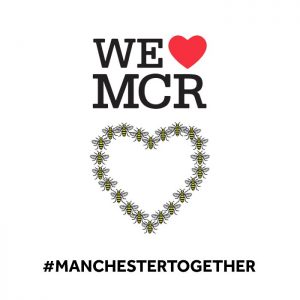 There are bees all across Manchester today as we remember the victims of last year's tragic terror attack.
It's been one year since the Manchester bombing in which 22 were killed at an Ariana Grande concert at the Manchester Arena. The attack simultaneously reviled us and brought us together, uniting an entire community and making us stand proud.
Choruses of Oasis' stalwart anthem "Don't Look Back in Anger" could be heard throughout the city centre in the wake of the attack, with Manchester showing its strength, community and total resilience.
We are so proud to be a Manchester business and part of this thriving, friendly city. Lawrence and Gail started UKFast in their flat on Oxford Road, Manchester, in 1999, and with the support Manchester business community we became who we are today.
We are proud to be the hosting team of Prodo Digital, the designers behind the One Love concert website that brought Manchester together to celebrate the lives of those lost in the attack. The concert saw huge household names like Justin Bieber, Katy Perry and Coldplay performing in solidarity against the attacks and promoting love and caring to all.
Today, we stand together with our home once again. This northern hub holds so much, including the largest of hearts.
Manchester: we love and salute you.