Best of British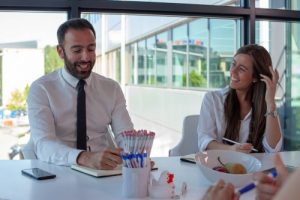 The sun's out, the sandals are on and we know you've had a relaxing weekend of bunting, jam scones and a bottle of bucks fizz (for the super-refined). However there's just about time for a quick blog before we clock off and find our Union Jack shirts again.
As Harry and Meghan waltzed down the aisle, it got us thinking about great partnerships. It got us thinking about you!
We couldn't do it without you, so what makes a truly fantastic partnership?
Passion
We're incredibly proud of our award-winning customer service because our team genuinely care. Our Level 3 qualified engineers are so passionate about what they do and when you head over to the tech floor, the atmosphere is always buzzing with everyone working so hard to do their very best for their clients. Just as you're passionate about your business, we're passionate about helping your business to grow: it's the perfect partnership!
Like-minded people
We make sure we get to know all our clients on a personal level as well as a professional one, finding out if we have shared values early on; helping us become an extension of our clients' own IT teams.
Together we're dynamic, professional, passionate, innovative and supportive. Our team lives and breathe these values, and we know you do too.
The best partnerships come from people and business who gel well together and have the skills to work through their differences to get the best outcome for everyone.
Innovation
At UKFast and through Tech Manchester, we actively seek out businesses that are imaginative and pushing boundaries in their field. When two innovative businesses work together to get the best results, there is a lot of creativity in the room. Once you harness that creative energy, incredible things begin to happen!
Our recent partnership with startup Mercarto was born from two inventive minds coming together and pooling their ideas, resources and plans for the future – we're here to help Mercarto sky-rocket and become a market-leading eCommerce business.
Great partnerships with industry-leading British companies are our bread and butter and it's your ideas, creativity and passion that help to drive us forward.
So let's raise a glass: thank you to all you amazing people who make UKFast the company it is and for being part of this journey with us (oh, and congrats to Harry and Meghan too!).
Want to know more about UKFast? Read our client success stories to see how we can help you boost your business.