mCommerce: The New Focus for Your Business
How many times have you checked your phone today?
Maybe you were trying to find a handyman to help you plug that leak under the sink, maybe you were buying a three-piece suite or checking the latest bid on that Game of Thrones collectible. Perhaps you were just looking at cats.
What is mCommerce?
Basically, it's shopping through a smartphone or mobile device, while eCommerce is shopping through your laptop or desktop computer.
According to stats from IPA TouchPoints 2017, we spend up to eight hours consuming media every day, with 65% of people checking their phone within five minutes of walking anywhere.
That's a lot of information consumed by millions of people, and a lot of lampposts walked into. With so many people multi-tasking while they browse, websites need to be instantly viewable and well laid out. A good mobile site means great SEO and, importantly, great conversions.
The future of eCommerce
We are now purchasing more and more on our phones. Eighty-five per cent of mobile users expect sites to be as fast as a desktop (or faster) on their mobile. This has led to the rise in mCommerce and has long-lasting impacts for your site's SEO.
Google has just released a mobile-first update to their search ranking index. This means search engines now prioritise sites which work well on mobile platforms over desktop.
But why?
The stats speak for themselves:
Two out of three businesses will be led through mobile channels by 2020
73% of consumers won't return to websites that don't load properly on their mobile
78% of searches for local business information using a mobile device result in a purchase
Google's mobile-first index update will downgrade sites which are incompatible with mobile platforms and give a huge boost to those which have an effective, easy-to-use interface via mobiles.
With mCommerce, next day delivery and personalisation on the rise, the demand on retailers to satisfy impatient consumers will only keep on increasing. How will your business stay at the top and keep customers returning to your site?
Free download
Download the full infographic to explore the UK eCommerce landscape and see how your store can benefit from:
A mobile-first approach
Building maximum trust
A personalised experience
Friction free conversions
Driving qualified traffic
Here's a snippet to give you a taster!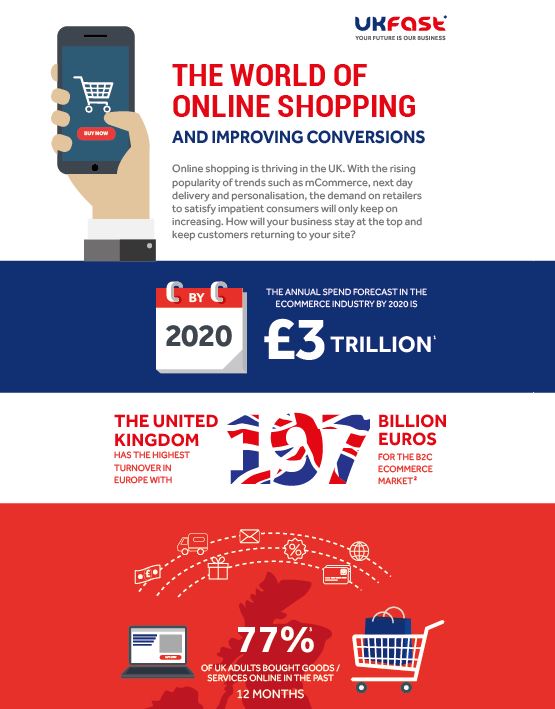 Download the full infographic now

Shopware is a leading open source eCommerce platform that comes with mobile-optimisation. By creating your eCommerce website on Shopware, the platform actively works to boost your mobile layout and Google rankings.
Boost your conversions now
with Shopware-Optimised Hosting