Help! The Robots Took My Job – The Ethics of AI
If you've been keeping on top of the news lately, you'll know our TV screens and online papers have been whirring away with talk of AI. Artificial Intelligence is a huge leap forward for business, academia, health and indeed technology in general – the future is here!
However, one conversation takes dominance over everything else.
What does AI mean for the future of our jobs?
The thinktank Future Advocacy claims that at least one-fifth of jobs in the UK are at 'high risk' of being automated.
With scary predictions racing around about the future of 21st-century working, an ethical AI code must be established.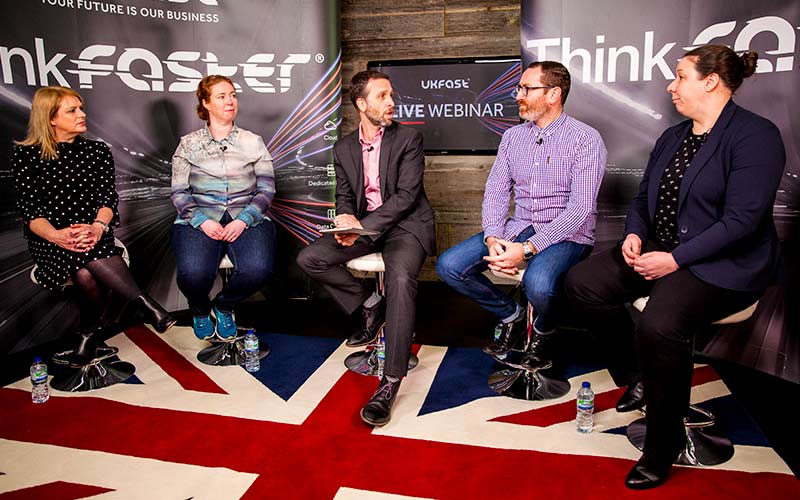 What do we need?
The promise of swift change means fear is gathering among people who could be at risk from a job cut. The rise of artificial intelligence already seen inside hospitals and high street shops is enough to make us realise that much more is soon to come.
The BBC have also been talking about the ethics of AI this morning and agreed that companies need to come together with government training to create a code of AI safety.
They also raised another interesting idea to consider when talking about ethics:
Can AI manipulate or deceive us?
AI has already shown the capability to store and use our personal data (just think, Alexa is sitting in your home right now), but can companies take our information to use it for more sinister means than just finding your nearest Indian takeaway?
In the recent UKFast Cloud and Automation webinar, we discussed similar questions with a panel of tech experts. If you're keeping an eye on the AI story, this webinar is a must-see.
The Fear of AI
For many of us (mainly those of us who've seen I, Robot), there's still that nagging feeling at the back of our mind that automatons are actually plotting to take over the world and by 2040 we'll be serving grapes and caviar to the machines.
But let's hear from the experts.
We're not talking about losing jobs, we're talking about a larger sector of the population working four days a week and letting the machines do the rest of the busy work

Rachel Ferla, Project Manager and Digital Coach at cloud and automation agency Organise Chaos believes the fear of automation and AI needs to be quashed.
She said: "We are over-occupied and we work more hours than many other countries. We're not talking about losing jobs, we're talking about a larger sector of the population working four days a week and letting the machines do the rest of the busy work. That's a real positive element of the digital ethics debate.
"We have an inherent fear of change, so the key is education and understanding. When we think of automation people's minds go to fear and disruption, they don't see that how automation and machine learning is used in their everyday lives already."
'Human element'

Lawrence Jones added his voice to the discussion.
He said: "What machines can never do is bring the human element, so it's vital for technology to work alongside humans to deliver greater efficiency and ultimately it's up to business leaders to instil that.
"We also have a responsibility to ensure AI works for people from every background and culture, and that fairness and equality is built into the very foundations of machine learning systems to avoid bias. If the people building these systems are exclusively white, male and from western backgrounds then there's a problem." 
Whatever is to come in the future of business and AI, it sounds like many tech professionals, as well as the Prime Minister, are on board with making AI as safe for data, jobs and people as it can be.
Get the latest info on AI and watch the webinar