Cloud UK Live – London Highlights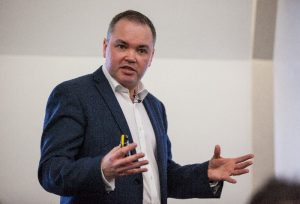 Calling all techies! Cloud UK Live Manchester went down an absolute storm and it's all go at the big event in London today!
Cloud UK Live London (#CloudUKLive) kicked off at 12:30 today and looks set to be another great event.
If you couldn't make Cloud UK Live this year, take a look at the highlights from one of our most prestigious speakers. Robert Reynolds, Chief Technologist at Hewlett Packard Enterprise has 20 years' experience in IT working in startups, systems integrators and technology companies, and now helps Hewlett Packard Enterprises deliver real world business outcomes.
Read his expert guide to containerisation, or how to access all your data and applications (new or old) across the cloud.
The state of cloud working
Digital transformation is the buzzword of the minute. Broadly speaking, it can be defined as delivering existing services to customers using web and smartphone platforms, or using these technologies to deliver new services which previously wouldn't have been possible.
But it's not always a simple task.
How can businesses step up their game?
1 Hire and train DevOps
DevOps is a people and process culture model, aiming to synchronise software development and software operation. It needs individuals skilled in new software platforms and experienced in Agile software development practises.
2 Use CI technology
Use continuous integration (CI/CD) technology platforms to their best advantage. These new and complex platforms are designed to move snippets of code through development, test and going live. They are a huge leap towards your business becoming cloud native.
3 Implement containers
The most common infrastructure tool to deploy and support CI platforms is containers, using the popular platform, Dockers. Containers abstract away from the operating system to enable software to be virtualised. Hosting multiple isolated applications which share a single operating system is a huge benefit as applications are no longer tied to specific infrastructure, operating systems or environments.
But what is a container?
Old, but necessary, applications and stored data mean that not everything is shareable and useable across all cloud, but a tried and tested platform can change all that. A container is a lightweight, stand-alone package of software that includes code, runtime, system tools, system libraries, and settings – everything you need to run it. This is containerised to run the software the same, regardless of where it's run.

Stepping away from digital platforms to real-world challenges, one of the major IT issues in modern enterprises is technical debt: legacy applications which have lived for at least 10 years. Developers have moved on from these so documentation is often non-existent and ISVs no longer support them.
The upshot of this is an environment with legacy infrastructure, legacy operating systems and legacy software applications that can't be removed from the estate. These applications often deliver significant business value, but not enough to justify investment to update them to a supported current version.
Recognising this, Docker and a group of partners are running a programme called MTA – Migrate Traditional Applications. IT applications are no longer large and monolithic, but composed of smaller applications – or microservices. MTA ignores these microservices and instead rolls the whole monolith application into "fat containers" – taking all of the application software and libraries into a larger than normal container.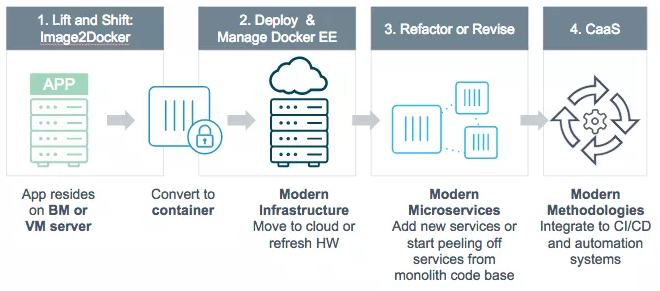 Source: https://blog.docker.com/2017/04/modernizing-traditional-applications/
By removing legacy components, applications are now safer for your business. For example, it doesn't have to deal with a Microsoft Windows 2003 server for example which no longer receives security updates.
Containers are now running in a production environment delivering production systems. Operations teams now have the ability to understand how to monitor and meter these new technologies.
Containerisation is a huge step towards a true Digital Transformation.
Read the highlights from Cloud UK Live Manchester