Shopware: 3 Tips To Get Your Business Booming

Mercedes-Benz, BMW and Audi – they're definitely at the top of our list when it comes to roaring down the Auto-Bahn. Germans really do have a need for speed, and it's no different with their eCommerce platforms.
We're so excited to announce our brand new partnership with eCommerce platform provider, Shopware!
But what is Shopware?
Shopware is a leading open source eCommerce platform and is trusted by more than 60,000 businesses including some of Europe's biggest brands, retailers and branded manufacturers across B2C and B2B industries. Based in Schöppingen, Germany, Shopware has seen a 500% growth in the past 12 months and their website platforms hold a whole bundle of fantastic benefits for your online shop.

Fun fact
Shopware has 17 years
of experience and holds Philips
and L'Oreal among
its client list
How can Shopware help my business?
Our Shopware optimised software stack frees up as much of the underlying resource as possible, meaning your site can take full advantage of the hardware and push your sales right to the top. Through our partnership, UKFast is now the first British cloud provider to offer preconfigured Shopware hosting packages. This means you can sign up to Shopware with UKFast and still receive our award-winning level of customer service for your business.
To celebrate, we're offering new users an incredible offer. See below for more details!
Speed is critical in eCommerce, but how else can Shopware help your site be the best that it can be?
Supercharge your traffic
Oh wow! Your top-selling product was on TV! While you're getting slapped on the back, your site is being overloaded with traffic and could max out at any time.
Our optimised solutions can handle vast amounts of traffic coming to your site without page speed slowing down. While other platforms could potentially overload, Shopware's newest update allows shoppers to keep on browsing and buying even during high-traffic periods.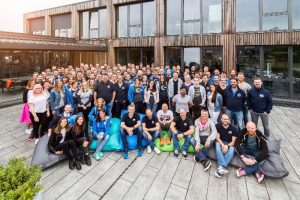 Google rankings
Shopware is all about speed – we like that at UKFast! The platform makes your eCommerce site page load time go through the roof. According to Google, the bounce rate of shoppers who have to wait too long to load a page is significant: a waiting period of anywhere between one to three seconds increases the likelihood of a visitor abandoning the website by 32%, and a load time of up to five seconds increases it by 90%.
What's more, Google's algorithm boosts sites with top page loading times. With Shopware's improved page loading speed, your site can rise up the Google rankings and reach for the very top.
Mobile-friendly
Who likes having to scroll for four hours on your phone before you get to the checkout? Not us, that's for sure!
With over 50% of online purchases being made from a smart phone or device, Shopware users have nothing to fear. Not only are Shopware sites search engine optimised but they are mobile-friendly. This is another huge boost for Google rankings, as this is yet another element of Google's ranking algorithm.
Shopware 5 already includes a responsive template as standard, which perfectly adapts content for various mobile devices, meaning that your site can be viewed perfectly on all platforms.
Switching to Shopware offers a brand new way of working, allowing you to optimise every avenue of SEO and keep your business booming with ease. So get in gear and get your business moving.
Exclusive offer
Sign up to Shopware optimised hosting today
to receive three months of CDN,
DDoSX and WAF for FREE