Make the Internet a Safer Space for Your Family
Remember the days you knew you were in trouble if you were sent to bed before Corrie? In 2018, the only way to tell off the kids is to secretly change the Wi-Fi password.
While those halcyon analogue days might seem like yesterday, tech savvy youngsters have taken over the world and are shaping the internet's landscape. With 42% of all children in possession of a personal tablet or device and youngsters under the age of eight spending around two hours nineteen minutes in front of a screen every day, it is certainly the right time to raise awareness of online child protection.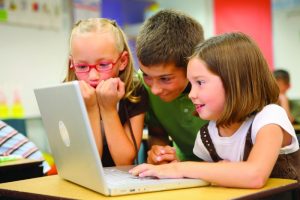 Today marks Safer Internet Day 2018 (SID) and focuses on making the internet a safe haven for children and young people. Schools, charities, the police force and football clubs celebrate this global event, aiming to raise awareness of young peoples' well-being as they surf the web.
For parents, carers and teachers sending out the positive message of safety and online etiquette is so important – but how can you make the internet a safer place for kids?
Protect and Preserve
As simple as it sounds, keeping your identity and data under lock and key should be your top priority.
Passwords can be tricky to remember – for kids as well as us hassled adults! I.T professionals can't stress enough the importance of a strong password or phrase. Professionals now advise using a 20 character phrase complete with upper and lowercase letters, numbers and different punctuation.
While the very thought of this might cause many to fall into a hot flush, difficult passwords are vital for protecting your valuable personal data, whether that's on social media, or when buying things online.
Find out all about the FANTASTIC work UKFast delivers to children, teachers
& the community
Communication is Key
From chatting to friends, playing online games and watching favourite programmes, the internet can be something kids and teens browse in private. But you can make the internet an opportunity for a shared experience.
Ask your kids what they like most about the internet and why. Find out their favourite site to use and which famous people they like to follow. This way, you'll get much more of an idea of the reach of their online presence.
It may feel odd to have these conversations at first (and you might expect a one-word answer or grunt from your teenager) but there are certainly ways around this! Show your child you need help with something online, like how to register a social media profile or buy a product from a non-mainstream site. By going through simple security steps with your child, you can reinforce the message of online safety.
Love Learning
Get the internet in your classroom! The Official Programmes of Study for all Key Stages includes online safety as part of the National Curriculum to ensure the topic of security reaches students in the classroom. It aims to make young people "responsible, competent, confident and creative users of information and communication technology."
But internet security can be covered in more lessons than just I.T. Bring it into PHSE with role-play situations and provoking questions which get kids thinking about their time online in new and inventive ways.
UKFast is dedicated to making your business secure. Take part in making the internet a safer place for everyone and take the pledge #ItStartsWithUs.