What is a Metro Storage Cluster?
Metro storage clustering allows one solution to be stretched across two physically separate data centres.
At UKFast, this means we can extend your eCloud Private or eCloud Hybrid environment across two UKFast DC buildings in different places, and in doing so decrease risk and balance workloads.
How does it work?
It's a bit like splitting your cash when you're on holiday. You tuck stashes of cash in a back pocket, or down your sock, so that you'll have some when you need it, even if you're pickpocketed or lose your bag.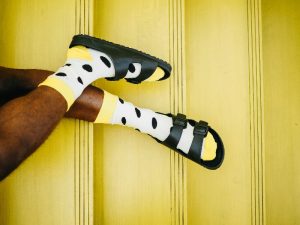 Metro storage clustering is exactly the same approach – we split up the physical location of your data so you're better protected in case of disaster. We use VMWare's vSphere technology, and present one common infrastructure over two separate UKFast data centres.
But, unlike the timeless holiday ensemble of sandals-over-socks and a leather bum-bag, clustering is about more than just practicality.
Clustering also allows you to balance your workloads across two of UKFast's enterprise-grade, UK data centres, and to achieve similar benefits to those of a local high-availability configuration whilst still spanning two DCs.
Who is it for?
Clustering is the perfect solution when disaster and downtime can't be tolerated.
In disaster scenarios, clustering allows you to achieve near-zero Recovery Time Objective (RTO) and Recovery Point Objective (RPO). So, even in the most unimaginable scenarios – like a tornado deciding to steal one of our DC buildings – your solution is unaffected.
You can also avoid maintenance downtime with live migration. Maintenance is bad for user experience and bad for business. With clustering, you can take a virtual machine offline and work on your maintenance and upgrades whilst your users continue unaffected.
Like socks, it's not a one-size-fits-all solution. There are various possible vMSC configurations available for your business. Talk to our eCloud experts to understand the one which is right for you.
Metro Storage Cluster is the perfect solution when disaster and downtime avoidance is a key requirement.