2018's Tech Trends According to the Experts
When we look back at 2018, what will characterise the year in tech? That's the multi-million dollar question to ask at the start of a new year, and it's one which could be worth literal millions for those who get it right.
In the first webinar of 2018, UKFast took a stab at this very question. Hosted by Jonathan Bowers, MD of UKFast Enterprise, our guests covered the emerging technology trends which they believe business owners should be keenly aware of in the next twelve months. Here are the main talking points
Increased accessibility in augmented reality
Augmented reality is fast becoming a reality for us all, but how we apply this virtual layer to our own vision will be key to success. Whilst the technology of head-mounted displays still needs to shrink, our smartphones offer a much more convenient and accessible alternative.
Panelist Paul Lee, UK Partner and Global Head of Research for TMT at Deloitte said: "Getting people to wear a head-mounted display is a big ask but getting people to look through their phones, which they already own, is a much easier thing to do.
"For this year, we see a lot more content being available – and methodologies like ARKit and ARCore mean that junior developers can create AR content. It's no longer a big technological challenge – it's a creative challenge this year. "
Whilst Augmented Reality isn't a new idea, 2018 could well be the year when the ease of development enables companies to focus less on the technological advancements and use more of their resources to refine their content.
Kelly White, MD of Red Cow Media, agreed. She said "[Commercial] augmented reality is all about getting away from the bells and whistles, and applying them only when they have a commercially viable application."
A new philosophy for data
The handling and management of data are undergoing a rapid change. Both businesses and the public sector are attempting to collect ever-increasing amounts of information and are expected to keep this data secure whilst also finding actionable meaning within the raw data.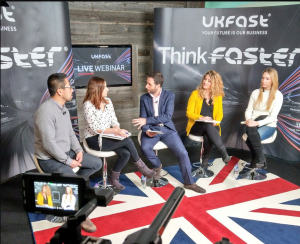 Amanda Newman, previously IT Manager at Shell and now Founder of The Career Mum, said: "There are different perspectives and ways to slice [data]; you've got what's important to a business, making sure you've got good and accurate data and what's important to your consumers, and these are all different lenses."
Kelly White agreed, reaffirming that the lenses each business needs to use should be specific to its business goals. She said: "Your business is not the same as any other business, so you should be starting from a point where you think about what information is important to your business specifically. What are the reasons for engaging in any form of digital activity? You should report on those, rather than saying 'everybody else reports on this metric; I'll have that in my report.' It doesn't really work like that anymore'"
Technology in education
A theme which all panellists touched upon was the unfulfilled potential of technology in education. Gill Escolme, Technical Project Manager at UKFast's Public Sector department, explained: "We are seeing more schools starting to knowledge share for a more teacher-authored curriculum. At the moment it's quite set in stone and there's no way really for schools and teachers to be centralising the knowledge and the experience that they have."
Gill continued:
"We're starting to see a real drive towards a cloud computing environment in education. We're seeing schools and trusts who want to start knowledge sharing and embracing all the technologies that are available to them."
Amanda added that the curriculum itself was not as technologically proficient as it could be. She said: "A lot of it comes down to budget. The kids are ready for the technology. Coding in many schools is not available at  A Level because they can't get coders to come in and be teachers. If we were able to overcome those hurdles that would mean that kids are ready and prepared business and get a head start in their lives. "
IoT vulnerabilities
The Internet of  Things has been on prediction lists for the best part of five years and is growing in its definition and valuation with each passing year. But the demand for IoT devices might have outweighed many company's abilities to securely produce the hardware and software.
Paul Lee described some of the shocking statistics from his research into DDoS attacks. He said: "Last year we looked at the amount of DoS attacks, and one of the predictions we have is around the volume of them, which has been going up as the world has become more connected. Some of the biggest cyberattacks that happened in 2016 were assisted by bots of about 10,000 IoT devices."
Gill Escolme suggested a solution for the problem; businesses must accept their new responsibility at the top layer to ensure that data and devices remain safe. Gill said: "Cybersecurity needs to be included in business strategy from the ground up. If you look at some of the issues we saw in 2017 – WannaCry for example – no one took responsibility. They were running heavily outdated software, and nobody had stepped up and recognised that this needed to be addressed."
Re-addressing the gender balance in tech
Host Jonathan Bowers, MD of UKFast Enterprise shared his experience of the gender imbalance in tech. He said:  "When you go into schools and run code clubs for seven to eleven-year-olds there are many, if not more girls excited about coding at that age. When it gets to secondary school there is still a stigma – at 12 and 13 years old girls move away from coding. I think that's because girls don't have positive role models that they can aspire to be like in that environment."
Gill offered a solution: using tech to tailor the solution: "I do quite a bit of work with schools trying to encourage more women into STEM subjects – it's not an area that's particularly appealing to them at the moment. We need to look at why that is. The first step is to gather a bit more data and start to tailor the subject to new people."
Want more webinars? Discover how Magento can help your business reach new heights in our next webinar.