How To Leave Your Website Over Christmas
For the best Christmas experience your technology's got to go, hasn't it? In fact, for a truly Dickensian Christmas, you should turn off the power, light some candles and rely on paper hats, crackers and charades.
Who needs the internet at this time of year? You're too busy singing around the piano.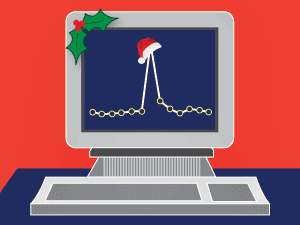 In reality, though, the internet is a bit of a silent hero over Christmas. It's already helped you to research and buy 90% your presents, and now it's going to power the maps app that will navigate you safely across the country to your in-laws, and later, deliver a life-saving video for your nephew who will finally sit still, even if it's only 20 minutes.
Your memory has a tendency to edit these bits out. Like the bit after the lovely Christmas meal when you can't move because you're so full, or when you're worn out from talking very loudly at your confused grandparents, or when you're wide awake late at night in a very unforgiving spare bed that doesn't smell right, trying not to wake everyone in the house.
So, if I asked you again – does internet usage goes up or down over Christmas, what would you say now?
Last year BT revealed that their home broadband and WiFi usage actually "increased substantially" over the Christmas period, nearly doubling from 2015 to 2016 on Christmas Day. They saw the biggest surge just before lunchtime on Christmas Day, when 130% more of their users went online versus the year before.
For website owners this is a message which goes against the romance of Christmas and against common sense; internet usage is up.
The internet doesn't close at Christmas
Don't overlook your Christmas visitors – they're just as valuable as the rest of the year – they're ready
If you're running an eCommerce site then there's a good chance that thrifty early birds have already landed on your site and are scouting for deals. Maybe your website will be the life-saving confirmation to a hotly contended answer in Trivial Pursuit.During a reminiscent chat, a family might decide to book another trip to the zoo – and you might be that zoo.
You get the picture; whilst Christmas is the best time of year for relaxing, reflecting and recharging, your website still needs to be as responsive and up-to-date. Here are some tips on how to achieve that:
---
How to maintain your site over Christmas
1. Scheduling is essential
Scheduling content should already be your bread-and-butter, but if you want some time off over Christmas then your festive content will need extra thought. Last year's analytics are a great start- when were customers visiting your site last Christmas? How can you retain them for a little bit longer? Can you wish them a Merry Christmas to improve their brand experience?
As soon as possible, create content for your blog, emails and social channels which will still make sense in the coming weeks.
You should also make sure that you have a kill-switch. Anything can and will happen, and even if your scheduled emails and tweets are innocuous, new developments often arise which change the meaning of innocent puns and graphics.
2. Dig into Christmas PPC
Even if there's nothing seasonal about your website or product, don't overlook the idea that people search differently over Christmas. With a little research into longtail keywords you can make an efficient investment into PPC and you might be surprised by the extra traffic you'd have otherwise missed out on.
Your visitors are already thinking about 2018, whether that's making plans with family, acting on word-of-mouth recommendations, saving money or investing in some new gear to help them achieve their 'new year, new me!' plans.
It might be too late to rank organically for Christmas keywords, but it's not too late to start thinking about the ways you can seize traffic in your little pocket of customers.
3. Points of contact
Where can your visitors go with questions? Is someone manning your social channels and inbox? If not, have you set up auto-replies to let your users know when they can expect a reply?
Don't let queries fall into a black hole.
4. Reliable hosting
Peace of mind is a lovely thing to have whilst you're on your Christmas break, which is why reliable hosting is a must.
Our support is 24/7, 365 days a year. So, if you've got any last minute questions we'll be here, and if you need to speak to us on Christmas day we'll be ready to pick up the phone in three rings.
There's no need to worry about your website over Christmas if you've got your content scheduled, your communications organised and a reliable hosting provider which you can call anytime.
Here at UKFast, we'd like to wish you a very happy and stress-free Christmas!