A Class Act in 2017
Visitors to the UKFast Campus are often surprised by the amount of stuff going on here; there's certainly too much to cover in one blog.  
For those of you who have not yet had the pleasure of visiting, we have a dedicated training and education department here, and the enthusiastic team that dwell inside, organise the internal and external education which plays a huge role in making UKFast special.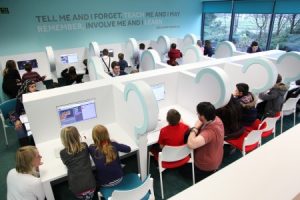 Before the year draws to a close, we're dusting off our metaphorical projector and clicking through some of our favourite slides from the 445 educational outreach events and that the team has been a part of this year.
Let's start with our youngest audience; it's been our best year ever for Code Clubs. We've had an amazing year hosting these events and seeing the kids, some are our own – now learning MySQL, Java and HTML5. The Code Club continues in Alderley Edge School for Girls, too. Two members of Team UKFast are doing an amazing job with a group of Year 4s.
It's much easier to take exams when there's a dedicated exam room here at UKFast Campus. This is, of course, great news… until you have an exam on the horizon; then it gets a lot harder to wuss out!
We're not just training our technical team – the entire company is on their way to new qualifications all the time, and that means that our exam centre has to be ready for anything.
This year was no exception – the Linux Professional Institute selected our test centre as one of only a handful globally to beta test a brand new DevOps qualification. We're also one of only three Red Hat Exam Kiosks in the UK, and we're now an official Shorthand Exam Centre for the National College of Training for Journalists.
Clearly the extra effort has paid off – taking exams in a familiar environment led to a record-breaking year for passes – we've had at least 116 in 2017.
…but it can only hold so many!
Of course, we can't do everything in-house, so when we recognise great work being done by other organisations were quick to provide sponsorship and partnerships.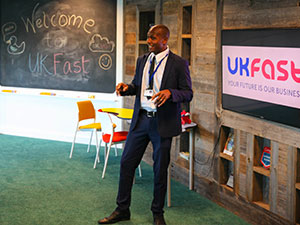 The UKFast Education Trust is designed to do just that and will be kicking off 2018 by sponsoring five new Raspberry Pi classrooms across schools in Greater Manchester. We're also sitting on the Global Academic Committee at the Linux Professional Institute, so we're able to steer global initiatives and qualifications alongside the Linux legend Jon 'maddog' Hall.
We've also partnered with EY Foundation, inspiring young professionals to consider a career in tech and we now run a UKFast sponsored 'Tech Engineers of the Future' Elective Programme at St. John Rigby College. Manchester High School for Girls is also an official educational partner.
We're training you too!
This is where we get you involved. This year we've begun Free Linux Essentials training to clients. They have been a huge success, so whether you've attended one yet or not, there will be more to come. Don't be afraid to get involved!
Our young padawans
What a year for apprenticeships! We were so pleased to win Apprenticeship Scheme of the Year at the Comms for Business Awards, and our IT apprenticeship was ranked as one of the top five in the North by Tech North.
This might be part of the reason why we've taken on 20 apprentices across four different apprenticeship programmes. We have over 60 apprentices across the business; they're not just an addition, they're a significant and valued part of Team UKFast. All of the BF L3 Apprentices are now qualified Engineers, and we celebrated with a university style graduation with gowns and mortar boards!
For those that are a little younger, we also played host to over 60 work experience pupils, which is the most we've ever hosted!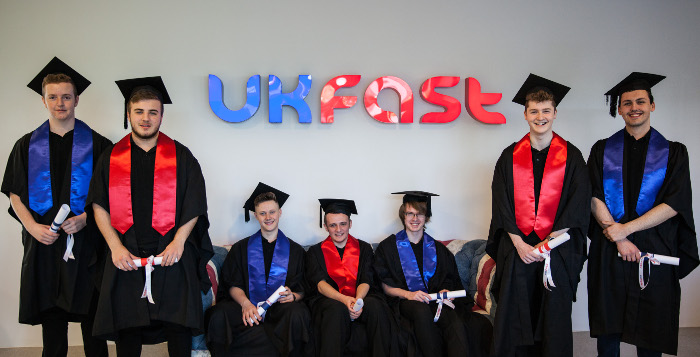 A class act
The training and education team have been meeting education VIPs this year to spread the word about our exemplary educational programme – in 2017 we managed to chat with MP Matt Hancock and Manchester Major Andy Burnham about our goals in education.
As official partners with Manchester High School for Girls, we're inspiring more women to get into tech. This year all of their Year 12 students took part in a team building day in our auditorium.
Finally, our MSc in Digital, Entrepreneurship and eCommerce is on course to launch in June 2018.
And finally…
In possibly our most exciting news this year, we've been approved by the government to build a ground-breaking digital high school in Manchester in collaboration with The Dean Trust. This is a huge honour and the next step in our commitment to improving education throughout the UK.
Stay tuned in 2018 to find out more!