One eCommerce Strategy To Ditch In 2018…
The eCommerce strategy you need to leave behind in 2018 is national thinking. It's time to start thinking globally about your business potential.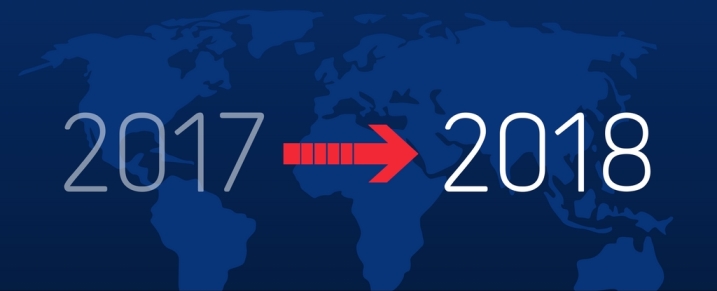 In order to truly reach new audiences you need to start thinking globally, and there's no reason not to – eCommerce spending is only going one way in 2018. Every year we're spending more on eCommerce and unlike traditional businesses, it's easy to get a larger slice of this pie online. In fact, you're already available across the globe! Don't forget it!
We don't need to tell you that site responsiveness is crucial to a great customer experience, or that page load speed is vital for great SEO; you know this stuff already; but if you're selling products globally, or want to, then you'll be surprised by the variation in site speed your non-UK visitors can experience.
The best eCommerce professionals don't assume anything about their customers. Instead, they test different browsers and devices, analyse all their users' behaviour, A/B test their UX, and check site speed.
We did some tests
To make the difference clear, we used a tool from Bitcatcha to check some of the web's most popular websites and found that – even with world-renowned sites – there could be a tenfold difference in load time between one country and the next. We also discovered that load times often exceeded 2 seconds, at which point Google considers your responsiveness a detracting factor.
On its support page Google states: "You should reduce your server response time under 200ms."
| | US (W) | US (E) | London | Singapore | Sao Paulo | Bangalore | Sydney | Japan |
| --- | --- | --- | --- | --- | --- | --- | --- | --- |
| reddit.com | 2 ms | 2 ms | 10 ms | 4 ms | 16 ms | 83 ms | 50 ms | 757 ms |
| bbc.co.uk | 137 ms | 94 ms | 4 ms | 169 ms | 471 ms | 207 ms | 1777 ms | 359 ms |
| wikipedia.org | 11 ms | 31 ms | 24 ms | 384 ms | 257 ms | 550 ms | 456 ms | 322 ms |
| facebook.com | 10 ms | 2 ms | 18 ms | 4 ms | 190 ms | 57 ms | 248 ms | 3 ms |
Do more for your international visitors
You can, of course, optimise the size of pages with a range of established techniques, and this will improve site speed marginally across the globe, but to really make an impact on your international load times, you can also invest in a content delivery network (CDN) – a global network of cache servers which bring the content closer to the user.
UKFast's content delivery network caches your static content so that when international visitors hit your site it loads from wherever's closest on our network. That means most of your website doesn't need to be sent over the Atlantic or North Sea. And with cache-control headers, you have granular control over which content is cached and for how long it is retained.
How to conquer the language barrier
Another reason to go global? Modern browsers (sorry, Internet Explorer – not you) translate for non-English speakers on the fly. Just continue writing in English, and the visitor's browser will do the heavy lifting. You can also invest in some actual translation at a product-specific level, and list your products on Google Shopping and Pinterest to bolster your international reach.
Of course, if you've yet to go after the US and Australian markets, there's lots of ground to keep you busy before even needing to worry about finding a translator!
Your New Year's Resolution?
There are many, many reasons to love the internet, but surely one of its greatest attributes is its inherent global reach. With a few tweaks, and our CDN in place, you'll be able to provide a fast and familiar experience across the globe and realise the potential of global eCommerce thinking. Make your New Year's Resolution one you can keep, take CDN for a spin.