Do eCommerce Shoppers Shop Differently Over Christmas?
For most shoppers at this time of year, the high-street is a no-go area.
Despite the fake snow in the windows, brick-and-mortar stores can become overcrowded and overheated. Black Friday is even less fun –shoppers literally race for the best deals like their life depends on it, putting strangers in a choke-hold for a chance to buy the last Smart TV.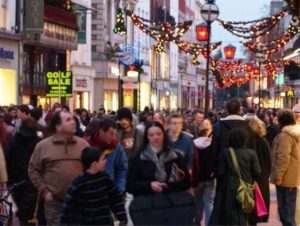 These examples are extreme, but they are just a couple of reasons why Christmas shoppers chose online whenever and wherever possible. This is great news for eCommerce businesses, but, whilst ecommerce might be more civilised and convenient, the needs and stresses of shoppers are the same; they want the best ideas at the best prices, as fast as possible.
As an eCommerce business, how can you ensure that your shoppers are able to 'get in and get out', whilst also ensuring you've shown them everything you have to offer? How can you meet the changing and more important needs of the Christmas and Black Friday shopper?
Llara Geddes head of UX at Beauty Bay, believes that the practicality of UX is often overlooked in favour of seasonal marketing. She said:"When it comes to Black Friday, it's all too tempting to want to wrap everything up in a campaign, complete with the snappy strapline, gorgeous imagery and video and the obligatory hashtag. And while these things undoubtedly have their place, sometimes they come at the expense of experience and ease of shopping."
Llara continued: "Black Friday is a volume event and people tend to either shop tactically for a specific item or want to easily browse by product, brand or price. My suggestion is to KISS – keep it simple stupid. Then crack out the mistletoe and those glorious campaign pieces for Christmas!"
If you're still unsure of exactly what your customers need during the peak season, here are some top tips from UKFast:
---
Christmas UX tips 
1. Clear postage estimates
From January to October, easy-going customers are happy to wait a little longer and save on the cost of postage. This is not true in the run-up to the holidays. Even for the more laid back customers, if there is an ambiguity about whether your products will land in time to be wrapped and given as a gift, they'll bounce to your competitor.
Consider making your estimated postage date more prominent and precise in the lead up to Christmas. For bonus points, add in a countdown to the final guaranteed shipping date before Christmas, which will not only reassure converted visitors but may increase conversions with this new sense of urgency.
2. Make sure your FAQ is working hard
Shoppers are never more inquisitive than around the Christmas period – they'll have a lot of questions and they won't be afraid to ask. To save you and your staff from answering the same tweet and email over and over again, whip your FAQ into shape and make sure it's organised for the worried Christmas shopper.
Some questions to consider:
  •  Can I combine items in postage?
  •  Will the postage be discreet?
  •  When is the latest it will arrive?
  •  What is your returns policy?
  •  When is the latest I can return the items?
  •  Do you provide gift receipts?
3. Put your best product forward
If you have a flagship product then there's a good chance that spikes in traffic during the festive peak season are looking for this very thing. Is there a product that you're famous for? Then it needs to go in your hero area! Make it easy for the parents, friends and partners of your brand advocates to find a safe-choice which is front-and-centre, and clearly labelled.
Even if you don't think you have a flagship product, dipping into last year's analytics might reveal that one product sold well in November and December from new accounts – that's your flagship product! Signpost these and similar product clearly for those who are new to the website.
4. Get fast
Speed is a really important ingredient in the user experience, particularly at this time of year. Christmas shoppers don't want to wait, and if they are short on time they won't wait; at Christmas buying something, anything, is better than being an empty-handed perfectionist.
Put simply, brand loyalty decreases during the peak season and if your website won't load fast enough shoppers will abandon your site – even begrudgingly – and go somewhere else. It's a virtual supermarket sweep, make it an easy game for your visitors to play!
5. Easy additions
It's a unique phenomenon during this peak season; shoppers often want to spend more – rather than less – than your product is worth. Visitors with a budget in mind might actively want to bundle another product into their cart to easily reach the figure they set out to hit. Ensure that related, but cheaper products appear on every product page to encourage bundling and rounding up.
6. Guest Checkout
Unfortunately, some of your peak season customers are never coming back – they want to buy a gift for a loved one but have no interest in maintaining a relationship with your brand. A simple guest checkout option ensures that those customers can buy without the worry of endless emails and having to close an account, which might dissuade them from going through with the purchase.
---
If you're ready to optimise your website and we've whet your whistle with our UX-mas tips, you'll be glad to know that we have an entire toolkit of resources including whitepapers, webinars and blogs. 
Your Guide to Busy Retail Periods
To ensure your business is prepared for shoppers before Christmas, Black Friday, and all year round, download your FREE Guide to Busy Retail Periods today.