5 Killer Moves to Increase Conversions
At this year's eCommerce Show North, UKFast Enterprise MD Jonathan Bowers outlined the best ways to improve the efficiency of your online site – the talk was a real hit, so we thought we'd share the best bits with those of you who couldn't make it, and those who lost their UKFast notepad!
With online retail spend reaching £60 billion, even the smallest tweaks can unearth higher conversion rates – here are five great places to start.
1. Mobile
There are over 75 million mobile connections in the UK, which means that mobile devices outweigh UK residents! Figures like this prove mobile is no longer niche.
With two-thirds of mobile users preferring a website to an app, it's clear that mobile optimised websites are a key to success -but mobile optimisation doesn't end with responsive design. Localised search and device-specific speed optimisation both improve mobile-specific SEO. This is proven by the fact that the majority of searches for local business information – using a mobile device – result in a purchase.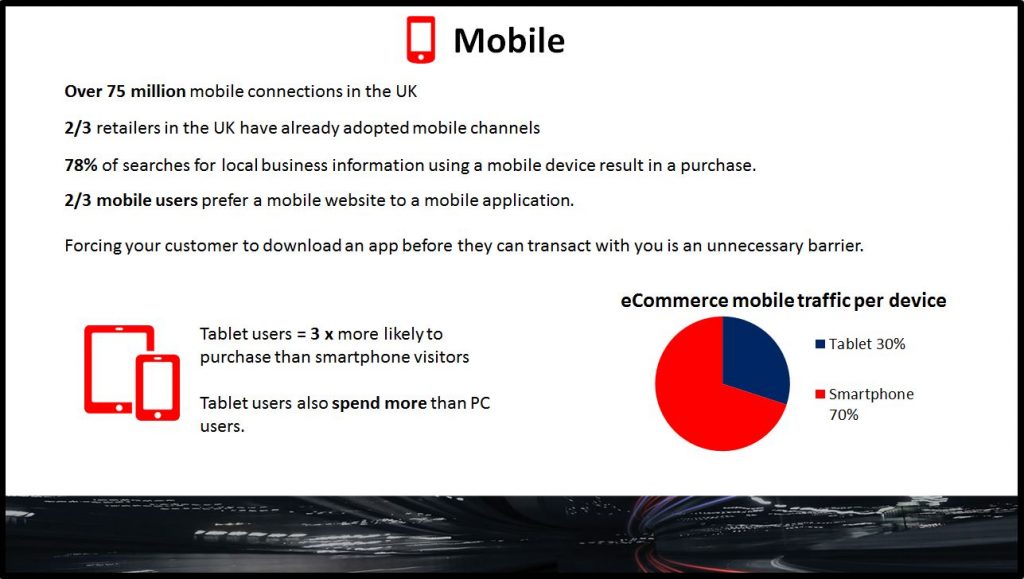 2. Trust & security
You can measure and track lots of factors on your website, but the level of trust your customers feel is hard to gauge – that's why it's so important to do everything you can to ensure that your visitors are sure of the legitimacy of your business.
Your visitors – particularly potential customers – are wary of anything which doesn't look right and will immediately abandon your site even if they were ready to pay just moments earlier.
Whilst it's true that your most determined and stubborn customers might suffer through bad UX or a slow site, not even these brand advocates will stick around if they feel that your website is not what it claims to be.
Does your website have all of the following?
Security software seals
An 'about us' page
Privacy policies
Linked social media accounts (preferably verified)
Customers testimonials
Ensure your website has all of these trust points to keep the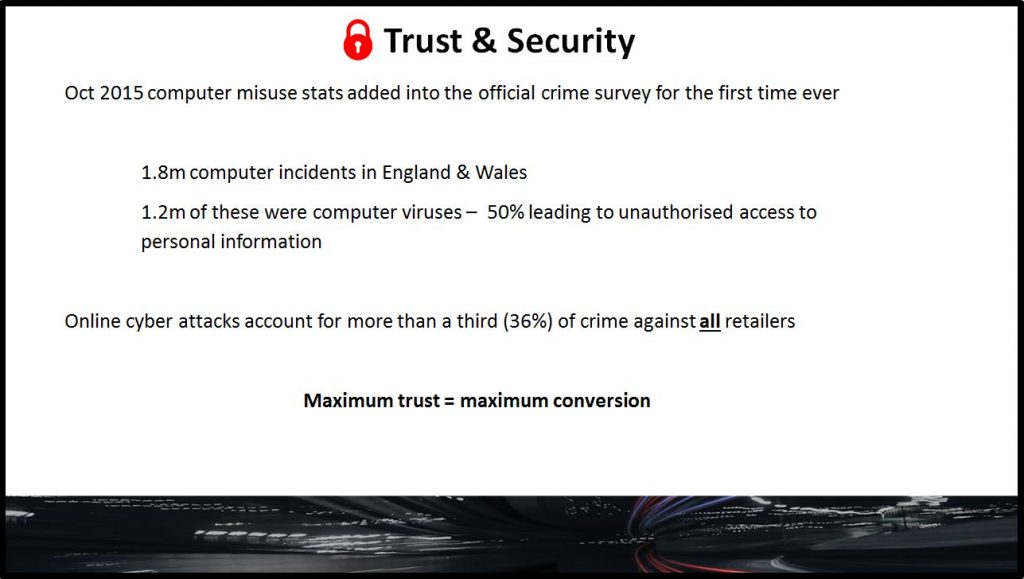 3. Personalisation
'Personalisation' once meant putting your customers' first name into a newsletter subject line. Today, with the heavy-lifting AI allows, we can do far more; predicting complex cart combinations, buying behavior and tastes in order to benefit both retailer and customer.
As personalisation has moved from newsletter novelty to one of the leading approaches in eCommerce, it's important that you begin adopting this way of thinking in your own store. You don't even need to know the customer's name – what's more important is that you can accurately predict their next step and make it easy to take it.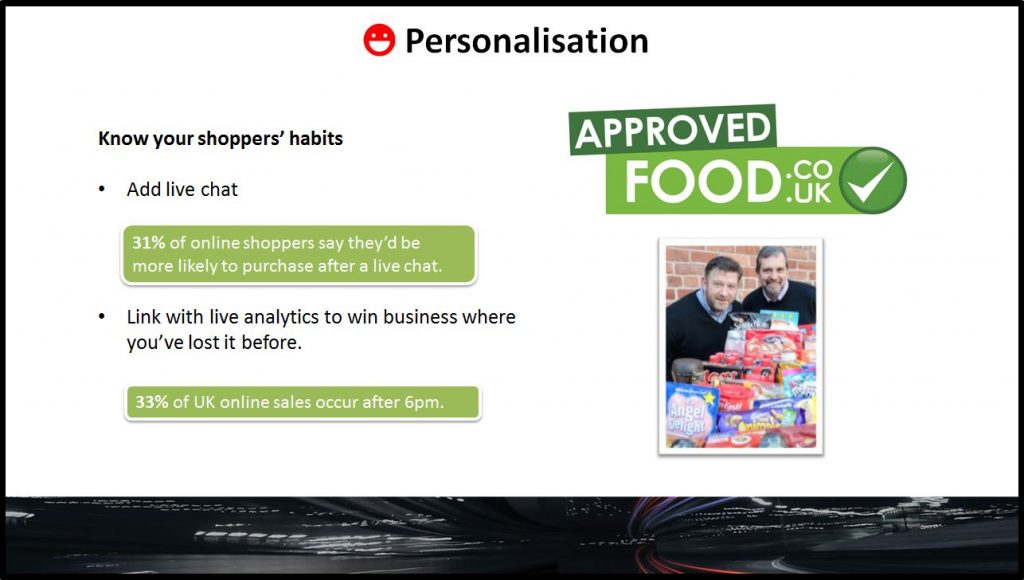 4. Reduced Cart abandonment
It's easy for a visitor to add your virtual product to a virtual cart, but that doesn't mean you've made a sale. So, when a visitor adds an item to their cart but doesn't bring the order into reality, the million dollar question 'why?'
As you might expect, there is more than one answer, but the prevailing research suggests that unexpected costs, complicated website navigation and webpage time-outs are amongst the most prevalent explanation.
The transition from cart to checkout should be the fastest, smoothest and easiest process in the customer's journey. Take into consideration the registration and payment process, postage calculations, continuity of imagery and the customer's device in order to fine-tune this process.
The faster and easier the process, the less time those visitors have to decide to abandon their cart.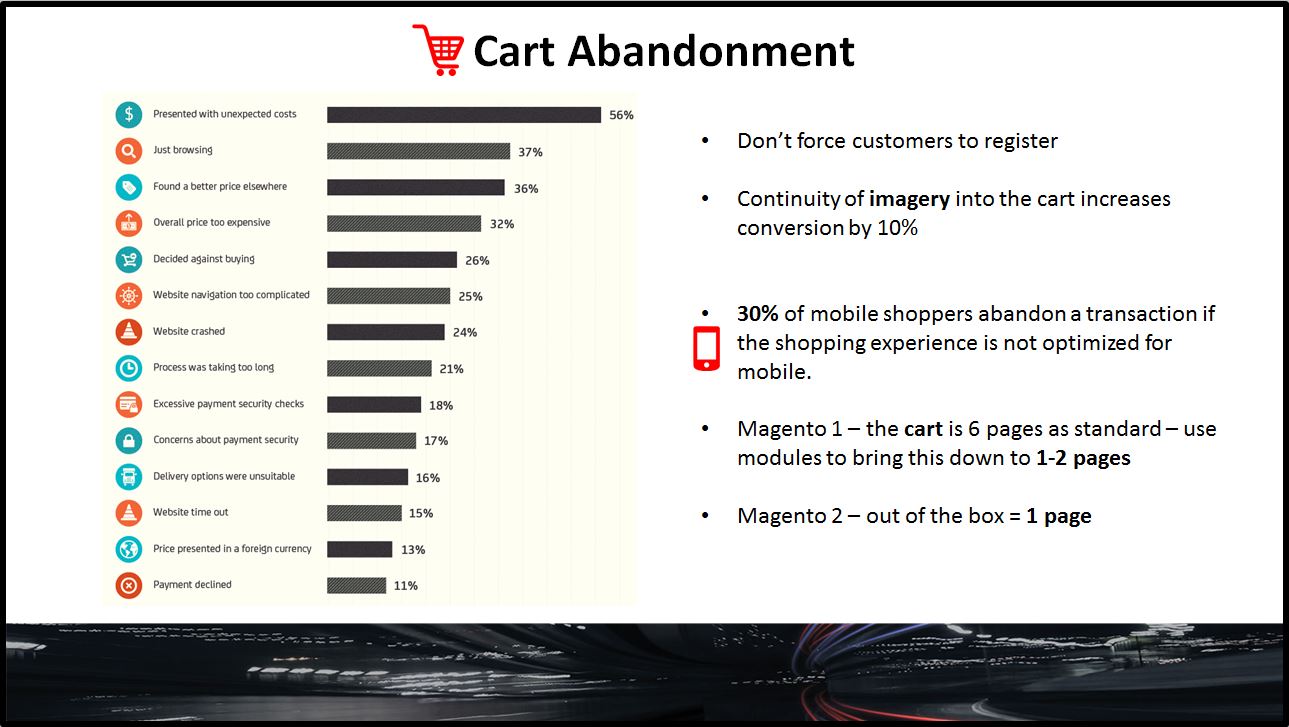 5.Speed
Speed is vital to eCommerce success. Waiting is for bricks and mortar stores, online shops need to be instant.
A single second delay in your website can result in a 7% loss in conversion, and 40% of visitors will abandon a website if it takes longer than three seconds to load. With statistics like these, it's easy to see that the speed of your website should be under constant scrutiny and improvement.