Awards Toward The Future
by Al McCloud
When you think of UKFast, what first comes to mind? Cloud hosting? Well, UKFast is so much more than a cloud hosting company.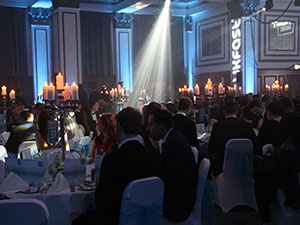 In our spare time we've created Unlocked, a cybersecurity conference to bring free professional cybersecurity advice to businesses across the country, Inspire MCR to brings business advice to entrepreneurs and startups, and eCommerce Live, which is now running in Manchester and London *takes a breath*. We also host Code Clubs for kids, work with 50 schools in the Greater Manchester area, and we have developed educational whitepapers, roundtables, podcasts, and the ol' UKFast blog.
So, yes, technically we're a technology company – but we're not letting that stop us from helping the surrounding digital industry develop in every way we can. We also know that it's not just us on this mission, and providing support to other organisations is just as important as helping first-hand. That's why we're happy to be involved in three of the biggest digital awards in the country.
These awards are a great way to encourage and reward achievements in the tech industry. Digital awards create a new gold standard for the year ahead and set the bar for projects that are not yet complete. Awards can push an industry forward faster. Here's how we're showing our support:
---
The Dadis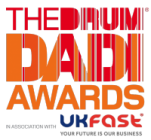 The Drum, for those who don't know, is a global media platform and the biggest marketing website in Europe. The Dadis, or 'The Drum Awards for the Digital Industries', is the platform's international award ceremony for brands and agencies to submit their digital work.  The Dadis have been running for ten years, and celebrate a broad range of digital work – from apps to consumer products, use of search to social media, paid media and VR. We're thrilled to provide our sponsorship and we're looking forward to seeing this year's nominations on the 8th September.
---
Northern eCommerce Awards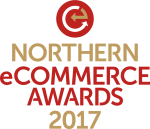 The NECAs are now in their second year and they are another award ceremony we have partnered with since inception. The awards feature 23 categories celebrating websites, platforms, suppliers, and marketing from in-house teams and agencies. The awards are organised by Don't Panic Events and Prolific North, a publication which UKFast proudly hosts and sponsors.  The Northern eCommerce Awards is the North's biggest celebration of success and talent across the entire e-retail industry and will be announcing this year's shortlist on 4th September.
---
Digital Entrepreneur Awards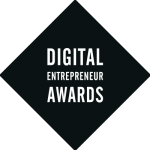 We've been a partner of the Digital Entrepreneur Awards since their inception 12 years ago. The DEAs are a celebration of boundary-pushing, cutting-edge digital innovation and business leadership. The awards cover 17 categories, ensuring that every component of a successful online business is recognised – from enigmatic leadership to forward-thinking development and cutting-edge creative. The awards have doubled in size this year and ceremonies will take place in both Manchester and London. There's still time to enter this year's awards.
---
Combined, the winners and runners-up of these ceremonies will create the blueprint of excellence in the digital sector for the year ahead and we're very proud to be a part of this national celebration of digital excellence!