7 Worrying Facts About Ransomware
Should you be defending against ransomware? The short answer is yes. The long answer is – yes, and here are just seven reasons to step up your security setup. Fear not though, because your ransomware worries can be answered directly in our next webinar.
1. Ransomware can be used by anyone

Most of the time '- as a Service' models are really positi
ve innovations; our Back-up as a Service solution is a great example of a service which is designed to help businesses grow. But now 'Ransomware as a Service', or RaaS is a thing. Whilst the most vicious malware and ransomware are still the creation of dastardly hackers, ransomware is now so lucrative that you can buy off-the-shelf versions and set them up without any technical knowledge.
2. Some hackers are too young to arrest

The characterisation of hackers as lonely teenagers in dark bedrooms is really unfair, not least because this stereotype is already a few years old. In the past three years, there have been six recorded cybercrime investigations in South Yorkshire alone which have been dropped because the suspects were younger than 10 years old. Despite their technical wizardry and the damage they might have caused, being younger than 10 makes them legally unaccountable for their actions.
3. Ransomware still makes millions

Despite cybersecurity professionals across the globe advising not to give into ransomware demands, this strain of malware still makes enough money to maintain its viability. Over the last two years, alone ransomware victims have paid more than $25 million in ransoms, according to recent results from researchers working at Google, Chainalysis, UC San Diego, and the NYU Tandon School of Engineering.
4. There are new forms of blackmail
Most malware blackmails its users by threatening to lock their data up, guaranteeing that it's never seen again. Newer strains blackmail users with the exact opposite. Whilst losing your data is damaging enough, particularly for businesses, a new strain of malware spreads via the Google Play store threatens to share all of your data with your contacts. 'LeakerLocker' locks up your smartphone and asks for $50 in exchange for not sharing your emails, texts, web history and photos with your entire contact list.
5. Apple products aren't completely immune

The widespread belief is that Mac and iPhone users don't need to worry about the threat of malware. That's not the case. The aptly named Fruitfly and Fruitfly 2 malware infected Apple products and went undetected for years, capturing screenshots, keystrokes, and webcam images. The latest update fixes the problem, but it's currently not possible to tell if your Apple machine is infected.
6. Some ransomware attacks can't be paid off

What looks like a ransomware attack might, in fact, be a state-led malware attack in disguise. Whilst no concrete evidence has proven this outright, there's a possibility that some ransomware attacks (particularly the recent NotPetya attack) are in fact state-led cyber-attacks to test a country's resilience; the ransom is simply a smokescreen. This means that even if you do unwisely decide to pay your ransom, you might find out that there is nowhere to send the money.
7. Attacks are still on the rise

Ransomware attacks have never been more prolific or high-profile. In the last year alone, breaches have hit national and international businesses, as well as the NHS and government, making front page news. You'd be forgiven for believing we're at critical mass. In fact, ransomware attacks are still on the up. Europol reports an 11 percent increase in the 12 months between April 2016 and March 2017. This is a problem which is not going away.
Unsure about ransomware? Put your question to our ransomware experts. Sign-up for our LIVE cybersecurity webinar taking place next week and be part of the discussion.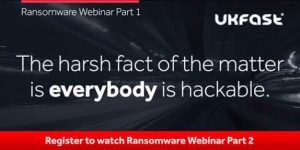 Ransomware part 2: Are you prepared for an attack?
Unsure about ransomware? Put your question to our ransomware experts. Sign-up for our LIVE cybersecurity webinar taking place next week and be part of the discussion.