The Passed and the Future
These fine upstanding students have all passed their exams and are on their way to become the tech engineers of the future – and not a bleep-bloop flying cars future, but potentially before the year's up.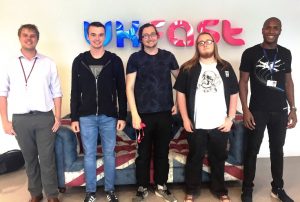 Who are these students, you're wondering? They're the recent graduates of something called the 'The Tech Engineers of Tomorrow Elective', which is programme organised by St. John Rigby College college and led by our experts here at UKFast.
We're now in our third year of this programme in which we take students with a penchant for tech and turn them into computing and hosting tech-perts. Our programme kicks off with settling in here at UKFast Campus and studying alongside our tech and hosting professionals (who might sound daunting, but they're really are a top bunch).
The students also take part in live projects which help them to develop their broader digital skills further their computing skills and programmatically build and launch their own web servers. The aim is that they eventually launch their own online applications.
Alongside all of that, we also task our students with completing the Linux Essentials qualification. This is a qualification from a world-renowned vendor the Linux Professional Institute (LPI),  and it's a big deal for future employment; what better proof than the fact we've just recruited one of the students onto our own Level 4 Software Developer Apprenticeship.
And just like that, another year is up and we're holding back tears of pride. This year saw a 100% pass rate, so the back-patting might have left a mark. Sorry about that, it'll fade! Good job you guys!
If you're a student who's tech-and-proud like us, get in contact to see how we can help