Healthy Body, Healthy Mind, Healthy Business
Finding the time and motivation to exercise is a hurdle stopping a lot of us from actually getting out there and doing it. This is particularly true if it's raining or you're tired or, let's be honest if there's literally anything better to do.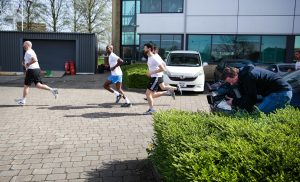 If you're someone who doesn't really understand how running or kettlebells could be considered fun then you might think that exercise just isn't for you. But the benefits of exercise go way beyond just making you better at something you don't like doing. Exercise could make you a better entrepreneur, creative, or expert in your field.
Here at UKFast we believe that far from it being a distraction from your work, exercise should be an important part of your professional life. In fact, we're such advocates of this that BBC News recently paid us a visit to witness first-hand the benefits of having our own onsite gym, training sessions, and running club. Whilst it's easy for us to say that it works, this thinking is also backed up by science.
Without getting too technical, exercise releases a protein called brain-derived neurotrophic factor, or BDNF which helps your brain to form new neurons. As you exercise, more of this protein is created by your body. In effect, whilst you're building muscles in your body you're also building more neurons in the brain. Knowing this won't make your next workout any easier, but if you're interested in improving your creativity, memory, and concentration as well as your abs, this might be a good reason to jump back in the saddle.
It's always a pleasure to see like-minded businesses who are practising this thinking. Mark Baker of Arrivée Performance Clothing also believes in the strong correlation between fitness and success.
Mark was part of British Cycling and spent two years racing in France, and whilst at the Tour de France in Limoges decided that his passion for cycling and decade of experience in fabrics and textiles made him the perfect entrepreneur to create a new line of performance cycling clothing. Arrivée Performance Clothing was born, with a fittingly French name.
Being a cyclist himself, Mark can attest to the long term positive effects of fitness on mental agility, which is an advantage as a business owner.  He said: "I've had some of my best business ideas and solutions whilst out cycling! When you're tired and can't see the bigger picture, a quick hour out on a bike helps me to unwind, and make better decisions when back in the office. Being fit helps to keep you more relaxed and focused on your goals. Everyone has stress but it's how you manage it that makes a difference. Being fit helps me to manage my stress levels and make better decisions."
Mark pointed out that working out is also a chance to meet new people. He said: "You get to mix with like-minded individuals, share ideas and even get good honest feedback on products!"
Mark hopes to build his business with staff who share his passion for fitness. "From a core values perspective, we'll be looking for team members who have similar ideas and visions. Fanatic might be a strong word, but they will have to share our core value of fitness, and be fans of cycling."
Whether you're someone who enjoys improving your body, brain or both, the UKFast Campus is the perfect place to make that a reality. You might be our next team member and cycling partner, or yoga buddy, or running mate, or goalie… the list goes on!
Check out our careers page for our latest opportunities and the chance to join Team UKFast.