Hop On Board Our Tech Week Tour Bus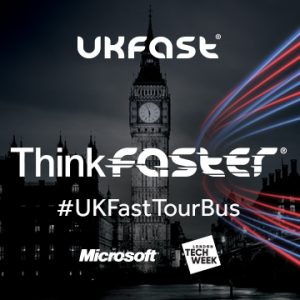 London Tech Week is a celebration of tech across our capital city. There are more than 300 events, all of which offer the opportunity to discuss, experience and learn about new technology. It's a week of celebration and a chance to see how the future of our industry is shaping up. As it's a tech festival, all the hot topics will be covered: VR and AR, AI, security, and (because no festival is complete without it) a spot of drone racing too.
We're providing one of those 300 events at the festival; our now sold-out cybersecurity conference Unlocked London. The event delves deep into expert's cybersecurity fears, showing you just how easy it is to get hacked with a live hacking demonstration.
If this all sounds great but you've missed out on a ticket, never fear – there's still a chance to meet Team UKFast, and we're coming to you! The festival's headline sponsor Microsoft will be joining us as we drive around London and Manchester on our UKFast Tour Bus.
We've kitted our double-decker bus out with everything you need to celebrate tech on the go. Somehow, we've managed to fit in impressive new tech demos, a hot desking area, a presentation space, an outdoor gazebo and garden. After you're all teched out there's even a gaming area and a free bar that's open to almost everyone apart from our bus driver. Sorry Carl.
The bus will be our venue, hosting roundtables, Q&As with experts, drop-in clinic, server consultations with our experts and keynote talks from the likes of James Akrigg at Microsoft. We'll also be giving out prizes throughout the day to those of you who've managed to find us first. The prizes are a secret, so we won't drone on about them.
Whether you're in the north or south, find our bus, try out some new tech and chat with us about your server issues, exciting tech, or just about the weather. It has been very unpredictable recently.